This is my favorite way to use leftover pumpkin pie filling.  I usually make a double batch of filling so I can make a deep dish pumpkin pie, but that leaves me with extra filling.  Not enough for a full pie of course.  Turning it into a delicious cheesecake is so amazing, you will always make extra filling for this sinful dessert.
Amazing Pumpkin Cheesecake
| | |
| --- | --- |
| Serves | 12 |
| Prep time | 30 minutes |
| Cook time | 1 hour |
| Total time | 1 hour, 30 minutes |
This pumpkin cheesecake was designed to use excess pumpkin pie filling. It's really very simple to make and is well worth the wait. A beautiful dessert to take to your holiday gatherings.
Ingredients
Crust
1 1/2 cup Graham Cracker Crumbs
2 tablespoons Sugar
1/4 cup Butter (melted)
Cheesecake filling
2lb Cream Cheese (softened)
1 teaspoon Vanilla
2 tablespoons Maker's Mark Whiskey (or your favorite Whiskey)
1 cup Sugar
1 cup Sour Cream
4 Eggs
Put it together
4 cups Pumpkin Pie Filling (uncooked)
Note
Here are the recipes for the above mentioned ingredients:
Directions
Crust
Step 1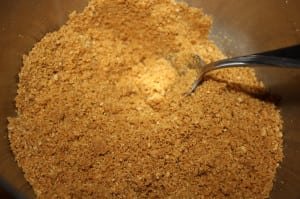 In small bowl combine graham crackers and sugar. Stir in butter.
Step 2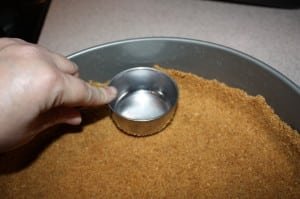 Pour crumb mixture into a spring form pan. Using a measuring cup, press the crumb mixture evenly over the bottom and allowing it to move up the sides of the pan.
Step 3
Refrigerate crust while you work on the filling.
Cheesecake filling
Step 4
Preheat oven to 350 degrees.
Step 5
Make sure your cream cheese is fully softened. This will keep lumps from your cheesecake. Place softened cream cheese in large mixer bowl. Beat on high for about 2-3 minutes, occasionally scraping down the sides of the bowl, making sure it is creamy and there are no lumps.
Step 6
Add in sugar, vanilla and whiskey. Beat on high for 2-3 minutes, or until combined.
Step 7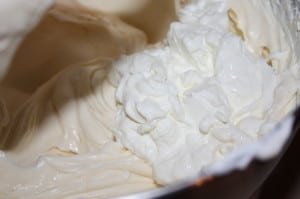 Add in sour cream and beat again on high for 2-3 minutes. At this point, you can beat as much as you need, being sure that everything is well combined.
Step 8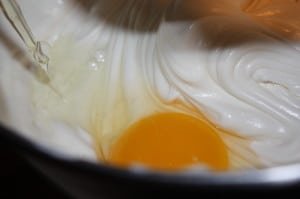 Now, change your beaters to low and, one at a time, add your eggs being sure they are combined before adding the additional eggs. Do not overbeat. Once all the eggs are incorporated, stop. Your filling is now done.
Put it together
Step 9
Add 3 cups of your pumpkin pie filling into the spring form pan.
Step 10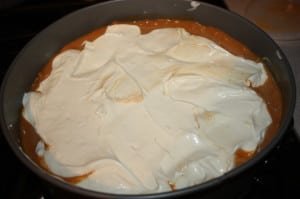 Add 4 cups of your cheesecake filling to the pan, spreading it somewhat evenly. No need to be exact.
Step 11
In a separate bowl, mix the remaining 1 cup of pumpkin pie filling and 2 cups of the cheesecake filling.
Step 12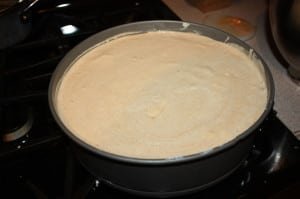 Pour cheesecake pumpkin mixture into the pan as the last layer.
Step 13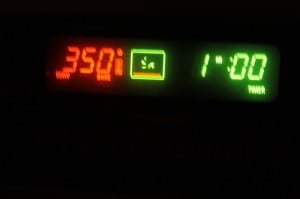 Place the cheesecake onto a cookie sheet or pizza pan to catch any leaky butter/etc. Bake at 350 degrees for 1 hour or until the top is lightly browned.
Step 14
Remove from oven and cool for 1 hour before placing in the refrigerator. Chill for at least 4 hours, preferably overnight.
Step 15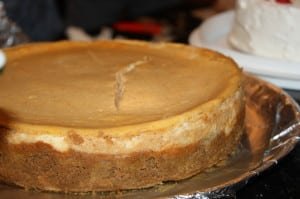 Serve! Best served with Stabilized Whipped Cream.
For the pumpkin pie filling:
Better than Famous Pumpkin Pie
If you want a good pumpkin pie, use the recipe found on the back of a can of Libby's Pure Pumpkin. If you want a recipe that's better than Libby's Famous Pumpkin Pie, try this one. It's based off of Libby's with a necessary variation.
Ingredients
--- teaspoon --- (delete)
2 Large Eggs
1 can Libby's 100% Pure Pumpkin (15 oz)
1 can Carnation Evaporated Milk (12 fl oz)
1 Unbaked 9-inch deep dish pie shell (4 cup volume)
3/4 cups Sugar
1/2 teaspoon Salt
1 teaspoon Ground Cinnamon
1/2 teaspoon Ground Ginger
1/2 teaspoon Ground Nutmeg (*)
1/2 teaspoon Ground Cloves
Optional
2 tablespoons Maker's Mark Whiskey (or whiskey of your choice)
Note
The main difference in this pie is the nutmeg.  I'm not sure why Libby's doesn't call for nutmeg but it makes a huge difference in the taste of the pumpkin pie.  Libby's Famous Pumpkin Pie is the base for this recipe.
Directions
Step 1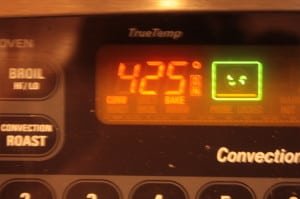 Preheat Oven to 425 degrees.
Step 2
In a small bowl, mix sugar, salt, cinnamon, ginger, nutmeg and cloves.
Step 3
In a large bowl, beat eggs.
Step 4
Stir in pumpkin and sugar/spice mix to beaten eggs. Combine well. Gradually stir in evaporated milk.
Step 5
Pour into Pie shell.
Step 6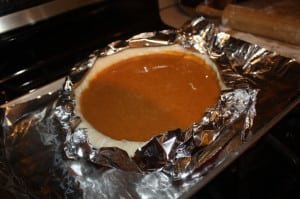 Cover crust with aluminum foil to prevent over browning of crust.
Step 7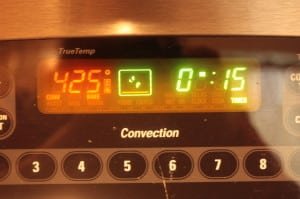 Bake at 425 degrees for 15 minutes.
Step 8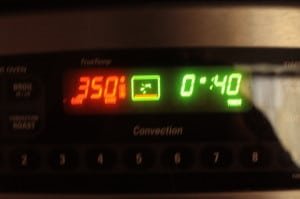 Remove aluminum foil...

and reduce oven to 350 degrees and return pie to oven to bake for 40 minutes.

Total time of baking will vary on your oven and the size of your pie. If you are making two smaller pies, 40 minutes is likely the right amount of time. For me, I had a deep dish 9" pie and it took 65 minutes to bake.
Step 9
Test to see if the pie is done, a knife inserted into the center should come out clean.
Step 10
This knife isn't clean. Return to oven and bake in 10 minute increments until knife comes out clean.
Step 11
Nope, still not done yet. This knife still isn't clean. Return to oven and bake in 5-10 minute increments until knife comes out clean.
Step 12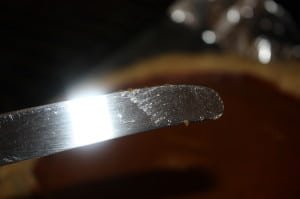 Ah, now the knife is clean. Remove pie from oven...
Step 13
Cool pie on wire rack for at least 2 hours.
Step 14
Serve with whipped cream. Or refrigerate.
For the stabilized whipped cream:
Stabilized Whipped Cream
Have you ever made whipped cream, put it on your pie or cake and had it just melt off? Want to decorate with the whipped cream but it just won't hold it's shape? Just making the whipped cream without stabilizing it, the whipped cream will slowly loose it's shape.
Ingredients
2 cups Heavy Whipping Cream (very cold)
1/4 cup Super Fine Bakers Sugar
2 tablespoons Vanilla Extract
2 teaspoons Unflavored Gelatin Powder
2 tablespoons Luke Warm Water
Frozen whisk and bowl
Directions
Step 1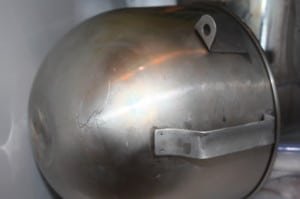 The first thing to do is put your whisk and your bowl into the FREEZER!  Freeze it for at least 30 minutes.
Step 2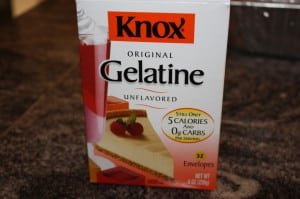 In small bowl, mix together the gelatin and water.  Set aside and start immediately on the next step.
Step 3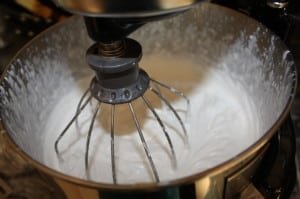 Pour the cold heavy whipping cream into the cold bowl.  Start to whisk on medium power with the cold whisk and slowly pour in the sugar.  Increase the speed to high beat until soft peaks form.
Step 4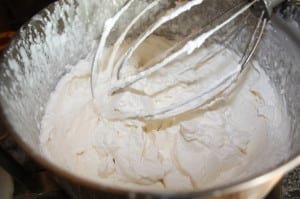 If the gelatin mixture has coagulated, add a little bit of warm water (1 tsp) and mix together. The mixture should be a thick pourable liquid and should not be grainy.

Slowly pour the gelatin mixture and vanilla into the whipped cream and continue to beat for another minute or two.  Do not over beat the whipping cream or it will start to turn to butter.