One more from my party with the old swim team friends. This one comes from our baker, Angelia. She has the most amazing baked goods and her Cheese Bread Recipe was a huge hit.
Angelia's Cheese Bread
Print recipe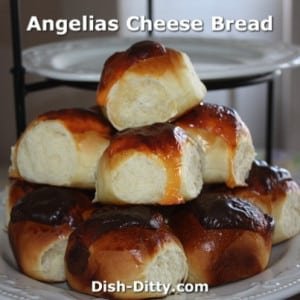 Ingredients
4 1/2 cups All Purpose Flour
1 1/2 teaspoon Salt
4 1/2 tablespoons Sugar
3 1/2 teaspoons Instant Yeast
1 1/2 cup Lukewarm Milk (with 1/2 tablespoon below)
1/2 tablespoon Lukewarm Milk
5 tablespoons Vegetable Oil (or melted unsalted butter)
1 1/2 cup Shredded Cheese (divided 1 cup for dough, 1/2 cup for topping)
1 Egg Wash (1 egg beaten with 2 tablespoons of water)
Directions
Step 1
Mix all the ingredients except the egg wash (reserving 1/2 cup of cheese) and knead until the dough is smooth. Let rise until doubled.
Step 2
Divide the dough into 12 pieces and shape each of them as a ball. Let rise until doubled.
Step 3
Brush egg wash onto dough balls and put the remaining 1/2 cup of shredded cheese on top of the risen "balls" before baking. (Sliced cheese was used instead of shredded cheese in picture)
Step 4
Bake at 350F for 16-20 min or until the cheese melts and becomes golden.
---
Whenever we have one of our gatherings, we all bring food. This group is such a foodie group. We wind up with a huge spread of amazing food. Angelia has been the one that always amazes us with baked goods.  Sometimes it's cupcakes, other times it's breads. Whatever it is, we love it and are excited when she shows up so we can see what she has brought us this time.
Thanks Angelia for your recipe! Now, lets see if I can get some of your Chinese baked goods from you! 🙂 I hope you all enjoy this recipe.
---