From the heart of Jamaica, this BBQ chicken recipe is spicy, aromatic, and full of flavor. This is a must have recipe for your BBQ arsenal.
Jerk Chicken
Print recipe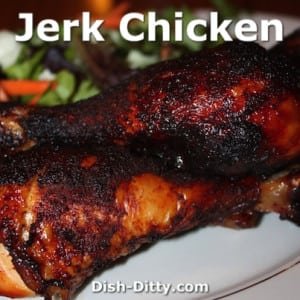 Ingredients
1/2 Whole Nutmeg
1 Cinnamon Stick
1 tablespoon Coriander Seed
1 teaspoon Whole Cloves
6 Allspice Seeds
1 teaspoon Black Peppercorns
1 bunch Green Onions (cleaned & trimmed)
1 Large Onion
1-3 Habanero Chili Peppers (to taste)
10 sprigs Fresh Thyme (leaves only, not stems)
10 Garlic Cloves
1/2 cup Fresh Lime Juice
1 cup Dark Soy Sauce
2 tablespoons Sugar
2 cups Fresh Pineapple
2-3lb Chicken
Directions
Step 1
In a skillet, toast the nutmeg, cinnamon stick, coriander seeds, cloves, allspice and peppercorns. Allow to cool. Then grind mixture. Grinding can be done in a coffee grinder or a single serve Ninja cup.
Step 2
In a food processor (or using a hand blender), puree: scallions, onion, habaneros, thyme, pineapple and cloves.
Step 3
Combine the spice mixture and the puree mixture together with the lime juice, soy sauce and sugar.
Step 4
Marinade chicken with Jerk sauce overnight. Grill, bake or roast as desired.
---
Many, many, many years ago, my husband and I took a trip to Jamaica. We stayed at Sandals, which is an all-inclusive resort. One of the places to eat was the beachside grill which was open 24 hours a day. My husband, trying to get his moneys worth, went every evening for his 'late night snack'.
The main things they served was Jerk Chicken, Jamaican Beef Patties and Grilled Cheese sandwiches. The Jerk Chicken was WAY too spicy for me. Wow. It burned! But, the smell and flavor was so intense, I had to come home and make it.
I usually only use 1-2 habaneros, but if you like it a traditional Jamaican Jerk Chicken that is super spicy, add all 3 habaneros. The sauce can be made in advanced and either jarred for long term storage or refrigerated for up to 2 weeks.
Enjoy!
---