One bite of this bacon pomegranate chocolate candy and you will desire more and more. Created for the Scharffen Berger Chocolate contest, this far surpassed my expectation. Super easy to make, beautiful and delicious too.
Bacon Pom Desire Bark
Print recipe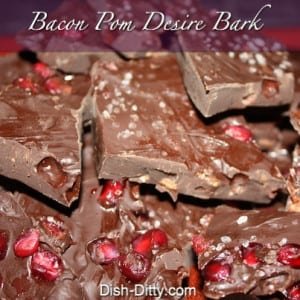 Ingredients
4 cups Sharffen Burger 62% Semisweet Chunks
2 tablespoons Heavy Whipping Cream
1 teaspoon Vanilla
1 tablespoon Kitchen Wax
1/2 cup Pomegranate Ariels
1/4 cup Scharffen Burger Cacao Nibs
4 Slices Bacon (cooked crispy, chopped)
1/2 teaspoon Coarse Sea Salt
Directions
Step 1
In double boiler, melt chocolate with cream, vanilla and wax.
Step 2
Cover a baking sheet with tin foil.
Step 3
Gently mix in the Pomagranate Ariels to the melted chocolate.
Step 4
Spread chocolate mixture evenly over tin foil lined baking sheet.
Step 5
Sprinkle bacon, nibs and salt on top of bark.
Step 6
Refrigerate for at least one hour.
Step 7
Remove from refrigerator, break into small, uneven pieces by hand.
Step 8
Keep refrigerated as it contains bacon and fresh pomegranates.