I love Twice Baked Potatoes… they are great for dinner parties and holiday dinners. I am frequently known for making an overabundance of baked potatoes just so I'll have extras to make Twice Baked Potatoes the next day.


Twice Baked Potatoes
Print recipe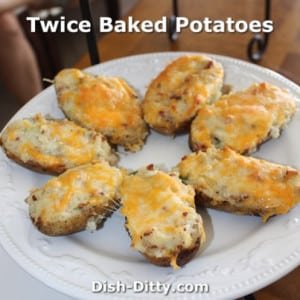 Ingredients
8-12 Large Potatoes (baked and cooled)
1 3/4 cup Butter
1 cup Sour Cream
1 teaspoon Salt
1/2 teaspoon Black Pepper
1 cup Green Onion (finely diced)
1 cup Bacon Bits
1-2 cup Finely Shredded Cheese (Cheddar or Mexican mix works well)
Directions
Step 1
Scoop out the insides of the potatoes, leaving about 1/4 inch of the potato attached to the skins. I wound up with about 8 cups of cooked potato and about 12 skins. You can modify this recipe based on how much cooked potato you have.
Step 2
Using a mixer, whip together the potato and butter until mostly mixed together. Ad the sour cream, salt, pepper, green onion, and bacon bits and whip together for another couple minutes to make sure everything is all mixed up.

* If you don't have a mixer, you can use a potato masher and a whisk to achieve the same result. But, it might take a little arm strength.
Step 3
Add the potato mixture back into the skins, using a slight round. Place on a baking sheet and sprinkle with cheese. Bake for 30 minutes at 425 degrees, or until the potatoes are hot and the cheese is melted.
Step 4
Serve hot with condiments like sour cream, salsa, green onions, and tomatoes... the list goes on.
---
This is a very classic side dish for me. It is also probably one of the first things I learned to make from my mom. No measuring really required. You can't screw up. Add butter and sour cream until desired consistency, then add salt and pepper. Throw in green onions and/or bacon. Top with cheese. Does it get easier?
Yummy is all I can say. Wish I could eat these now that I'm on this no carb diet, but that's ok. I'll probably make it over the holidays and have it as one of my cheats. Enjoy!
---