Sometimes you need something easy and quick for your weeknight dinner. This Pesto Parmesan Broccoli Recipe fits the bill.


Pesto Parmesan Broccoli
Print recipe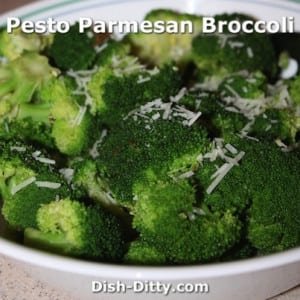 Ingredients
1-2 head Broccoli Florets
2 tablespoons Prepared Pesto Sauce
1 teaspoon Salt
1/4 cup Shredded Parmesan
Directions
Step 1
Bring a large pot of water to boil. Add the pesto sauce and salt. Add the broccoli, stir and boil for 3-5 minutes (or to your taste). Drain and then toss with the parmesan cheese.
---
My dinner tonight (the night I'm writing this post) took less than 30 minutes to prepare and cook. I made the Pesto Roasted Potatoes, Pork Roast (I was lazy and bought the pre-marinated roasts from the grocery store), and this broccoli. Weeknight dinners at it's best.
This broccoli was perfect for me as part of my lifestyle change of low carb. It was filling and flavorful. Perfect!
Enjoy!