Sticking with the theme of butter inspired by Julia Child, this is such a simple way to serve potatoes. But simple does not mean lack of flavor. How could it when there's a half stick of butter in the recipe?  I prefer to make the potatoes a little crispy, as you can see in the picture.  They wind up tasting like delicious chips. Yum!
Butter Fried Potatoes
Print recipe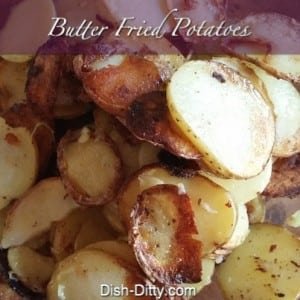 | | |
| --- | --- |
| Serves | 6 |
| Prep time | 10 minutes |
| Cook time | 25 minutes |
| Total time | 35 minutes |
| By author | Dish Ditty |
Ingredients
2.5lb White Potatoes (Cleaned, dried, and sliced thin)
1/4 cup Butter
2 tablespoons Olive Oil
Salt (about 1-2 teaspoons)
Directions
Step 1
Add everything in one large pot. Cook on medium high heat for about 15-20 minutes, stirring regularly to keep the potatoes from burning. If you want crispier potatoes, don't stir as often and increase the heat. If you want them to be less crispy, lower the heat, cover the potatoes and stir more frequently.