From my Julie & Julia movie phase, I created this Chicken with Red Wine Recipe for my family and it was a hit. Delicious and simple.


Chicken with Red Wine
Print recipe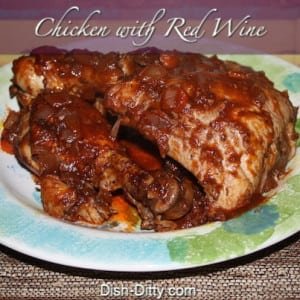 | | |
| --- | --- |
| Serves | 6 |
| Prep time | 25 minutes |
| Cook time | 1 hour |
| Total time | 1 hour, 25 minutes |
| By author | Dish Ditty |
Ingredients
3lb Chicken pieces (whole with skin on)
Salt & Pepper
3 tablespoons Butter (Divided 2Tbl + 1Tbl)
1 tablespoon Olive Oil
2 tablespoons Garlic (minced)
1/2 Onion
1 1/2 cup Red Wine
2 tablespoons Tomato Paste
1 teaspoon Thyme (dried (2 tsp if fresh))
1/2 teaspoon Oregano (dried (1 tsp if fresh))
2 Carrots (cut up)
Mushrooms (optional)
Directions
Step 1
Preheat oven to 325 degrees.
Step 2
Lightly season chicken pieces with salt & pepper. In 6 quart dutch oven, heat 2 tablespoons butter and 1 tablespoon of olive oil on Medium-high heat. In small batches, brown the chicken, turning to get both sides lightly browned. Place chicken on a plate after browning and set aside.
Step 3
Drain the excess fat. Add 1 tablespoon of butter, 2 tablespoons of minced garlic, 1/2 onion, and mushrooms (optional) to the pan. Cook for about 2 minutes, or until the onions and mushrooms become soft but DO NOT BROWN.
Step 4
Add to the onion mixture the red wine, tomato paste, thyme and oregano. Mix to get the tomato paste dissolved and then add the carrots and the browned chicken. Turn to coat the chicken in the sauce.
Step 5
Cover and bake at 325 degrees until chicken is fully cooked at 165 degrees internal temperature, about 1 hour.
---
After watching the movie Julie & Julia, I had a craving for Coq au vin, but didn't have the ingredients and I was too lazy to look up the recipe.  So, I took what I learned from watching Julia Child's first TV show episode and decided to make up something to meet my mood. This is what I came up with and it was a winner.  I loved it, my husband loved it and my son loved it.
The red wine was not overpowering (as it sometimes can be with chicken) and the chicken was super tender and juicy.  I didn't add mushrooms, but I put it in the recipe as optional because I think it would taste even better with them. Unfortunately, I'm in a mushroom free house, unless I have guests and can use them as an excuse for cooking with mushrooms.
Anyways, if you are in the mood for a warm, hearty, rich chicken dinner, this is the recipe for you.