One of my mom, Cherri's, original recipes that she created when the family lived in France, back in the 1960's. My mom made this Cherri's Stuffed Mushrooms Recipe at a lot of our family gatherings as it is just so good.
Stuffed Mushrooms
Print recipe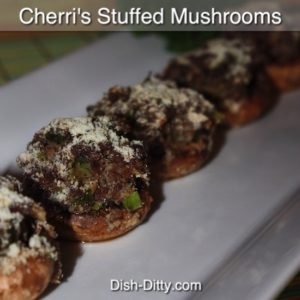 | | |
| --- | --- |
| Serves | 10 |
| Prep time | 15 minutes |
| Cook time | 25 minutes |
| Total time | 40 minutes |
| By author | Cherri via Dish Ditty |
My mother adapted this recipe when the family lived in France. Madame Jordan made a mushroom casserole that was a layer of mushrooms topped with a beef mixture made from leftover roast beef. My mom turned that dish into this delicious and beautiful appetizer.
Ingredients
2lb Ground Beef (93% lean)
4 tablespoons Butter (divided equally)
1lb Mushroom Caps
8 Green Onions (finely chopped)
1/2 cup Milk
2 tablespoons Fresh Parsley (chopped)
1/2 teaspoon Salt
2 tablespoons Flour
2 tablespoons Bread Crumbs
2 tablespoons Parmesan Cheese (grated (optional))
Note
I usually will multiply the recipe by 1.5 and use larger mushrooms. I then stuff them a bit more than my mom used to.
Directions
Step 1
Preheat oven to 350 degrees.
Step 2
Prepare the mushrooms. First, clean the mushrooms thoroughly to remove all dirt. Next, remove the stems and then set them aside for now. Depending on the mushrooms, I sometimes need to scrape out some of the insides of the mushrooms. As you can see from this picture, I remove some of the insides with a spoon to create a larger cup to hold the filling.

Butter a casserole dish by spreading about 1-2 Tbl of butter on the bottom and sides of the dish. Place the mushroom caps in the dish to prepare for stuffing.
Step 3
Finely chop the mushroom stems to be used later.
Step 4
In a large pan, sauté the ground beef. Drain any rendered fat and transfer beef to a bowl.
Step 5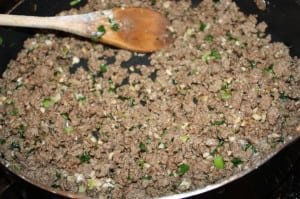 Add the butter to the pan and sauté the chopped mushroom stems and green onions for about 2 minutes. Return the ground beef to the skillet and add the flour. Cook for about 1 minute, stirring constantly.
Step 6
Add the milk, parsley flakes, salt, and flour. Stir over low heat until thickened (about 2-3 minutes). It should stick together.
Step 7
Using the meat mixture, stuff the mushroom caps and place in the buttered casserole dish.
Step 8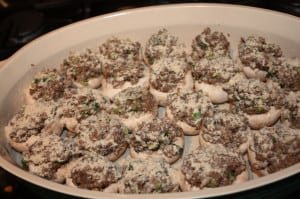 Sprinkle the casserole with breadcrumbs and parmesan cheese, if desired.
Step 9
Bake at 350 degrees uncovered until brown on top (about 20-25 minutes).
---
My father just told me this story last night, one I had never heard before.
Their neighbor, Madame Jordan, had invited the family to dinner. Madame Jordan served a mushroom casserole dish which my father to this day, some 50 years later, still remembers and wishes he could have it again. The dish, as described by my father, was a layer of mushrooms topped with a meat mixture layered on top of it. The meat mixture was made from leftover roast beef and was served by cutting it like a meat loaf.
I don't have that original recipe, but my mom adapted it and turned it into this appetizer. I think I'm going to have to try to make that dish sometime soon and see how close I can get to it based on my father's memory.  If you decide to try it, let me know how it goes.