This sauce was created by my mom for use in her famous Pasta Pot recipe. The Pasta Pot recipe is listed separately. This sauce can be used for more than just the Pasta Pot as it is a great base sauce. Delicious all on it's own.
Pasta Pot Sauce
Print recipe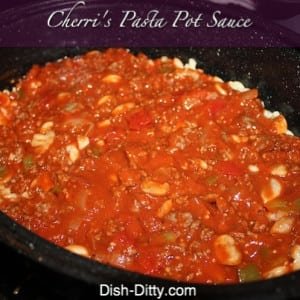 | | |
| --- | --- |
| Serves | 20 |
| Prep time | 15 minutes |
| Cook time | 20 minutes |
| Total time | 35 minutes |
| By author | Dish Ditty via Cherri |
Ingredients
2lb Ground Beef (93% lean)
1 Medium Onion (chopped (about 1.5 cups))
1/4 Bell Pepper (chopped (about 1/2 cup))
3 Whole Garlic Cloves (chopped)
2 teaspoons Dry Basil
1 tablespoon Dry Oregano
1 can Tomato Paste, 4 oz can (Contadina)
3 cans Tomato Sauce, 10 oz can (Contadina)
1 can Stewed Tomatoes (cut up, if desired)
1 teaspoon Sugar
1/2 cup Water
Optional
1/4 cup Red Wine
8oz White Mushrooms (sliced)
Directions
Step 1
In large skillet, brown ground beef. If using less than 90% ground beef, drain the excess fat. Add Onion, Bell Pepper, Mushrooms (optional), Garlic, Basil, Oregano, and two dashes of salt & pepper. Simmer for two minutes.
Step 2
Add tomato sauce, tomato paste, stewed tomatoes wine, and sugar. Rinse tomato sauce & paste cans with water and add water to sauce.
Step 3
Cover and simmer for at least 20 minutes. For longer simmering time, add water periodically. Add salt and pepper if needed.
Step 4
Use as the sauce for Cherri's Pasta Pot or Lasagna. Also can be served warm over pasta.