My mom's Gizzard Stuffing Recipe is the best.  Simple, yet meaty, this is one of the things I look forward to on Thanksgiving… and for leftovers afterwards.
This recipe was hard to write down, because my mom never measured and this was one of those recipes that she did by feel and by taste.  My sister Judy did a lot of work this last Thanksgiving trying to get the right measurements for us this year, so we can finally post it.  Definitely a winner stuffing.
[Update  4/27/14] We made this one more time for mid-year turkey dinner. My sister measured everything again. The second time around is listed below.  You can look at both recipes and make a decision which one you want to try. Both were great.
Thanksgiving Gizzard Stuffing
Print recipe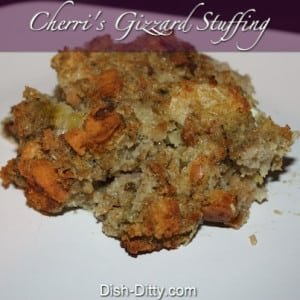 Ingredients
Make the stock
6 cups Water
1lb Gizzards & Hearts (one package)
Turkey Necks & Gizzards (not the liver)
2 cups Onions (cut in half)
1 1/2 cup Celery (cut in half with leaves)
2 tablespoons Poultry Seasoning
Mix it together
1lb Bread cubes, unseasoned
2 cups Onions (diced)
1 1/2 cup Celery (diced)
Stock (see "Make the Stock")
2 teaspoons Poultry Seasoning
Directions
Make the stock
Step 1
In large pot, combine water, gizzards, necks, 2 cups onions, 1 1/2 cups celery and poultry seasoning. Bring to a boil.
Step 2
Cover and reduce heat to a simmer. Simmer for 1.5 hours. Remove from heat and cool. It will take several hours for the stock to cool.
Mix it together
Step 3
In large bowl or pan, combine the bread cubes, 2 tsp poultry seasoning, 2 cups onions, and 1 1/2 cups of Celery. Yes, these are fresh cut onions and celery that are in addition to the ones used for the stock.
Step 4
Strain the stock. Remove the gizzards and cut into smaller pieces and add to the bread-cube mixture in the bowl. Remove the meat from the necks and add to the bread-cube mixture. Discard the remaining solids, reserving the strained stock.
Step 5
Pour half of the stock onto the bread cube mixture. Mix well. Continue to add stock until the bread is moist but not mushy. I add a couple cups at a time. Then I mix and test. Once you have the right consistency, test it to see if you need more seasoning. You shouldn't, but sometimes I've found I need a little more.
Bake it
Step 6
Spray pan with Pam and put the bread stuffing into the pan.
Step 7
Spray tinfoil with pam and cover stuffing with pam.
Step 8
Bake at 350 degrees for one hour.
Step 9
Remove the tinfoil and bake for an additional 10-15 minutes or until it is browned on top.
Thanksgiving Stuffing Small Batch
Print recipe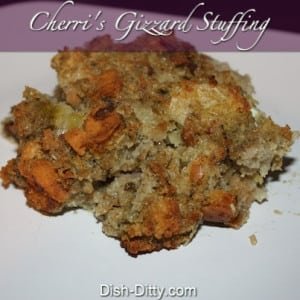 Ingredients
1lb Unseasoned Bread Cubes
1 Large Onion (diced)
2 cups Celery (diced)
3 cups Cooked Gizzards (diced)
3-4 teaspoons Poultry Seasoning (depending on stock)
2 quarts Turkey Stock
Note
To make the stock, see Cherri's Thanksgiving Gizzard Stuffingg.
You can use the seasoning packet that comes with the unseasoned bread cubes stuffing bag. It is approximately 2 teaspoons of poultry seasoning.  You might need 1-2 additional teaspoons.
Directions
Step 1
Spray a baking pan with pam. Mix together all the ingredients and baking pan. Bake covered at 375 degrees for 1 hour. Pull the top off and bake for an additional 15 minutes.