If you are trying to reduce your calories and/or carbs, but still want to have chow mein, this is your lucky day. This noodle dish is made from Healthy Noodles from Costco which is a Yam flour based noodle. It is no carbs and very low calories. And the best part? It tastes yummy!
Chicken Chow Yam Noodles
Print recipe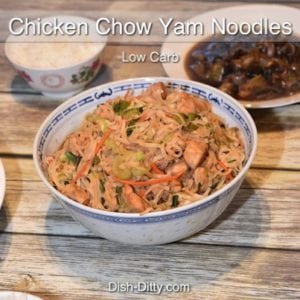 Ingredients
Marinade
3 cups boneless skinless chicken breast (diced)
1/4 cup light soy sauce
2 tablespoons Panda Brand Lo Mein Sauce
2 tablespoons sherry
1 tablespoon seasoned rice wine vinegar
Sauce
1/4 cup light soy sauce
1/4 cup Panda Brand Lo Mein Sauce
1 tablespoon seasoned rice wine vinegar
1 tablespoon sherry
Vegetables
4 cups Napa cabbage (sliced thin)
2 cups baby bok choy (sliced thin)
1/2 cup carrots (shredded)
1/2 cup green onion (sliced 1)
Stir Fry
32oz Healthy Noodle or other yam noodles (drained, 4 8oz packages)
1 tablespoon vegetable oil
2 tablespoons sesame oil (divided)
Directions
Marinade
Step 1
Marinade the chicken using the marinade ingredients above: chicken, 1/4 cup light soy sauce, 2 Tbl Lo Mein sauce, 2 Tbl sherry, and 1 Tbl seasoned rice wine vinegar. Set aside while you chop your vegetables and prepare to stir fry. It is best if the chicken marinades for about 20 minutes.
Sauce
Step 2
In a small bowl, add the sauce ingredients above and set aside: 1/4 cup light soy sauce, 1/4 cup Lo mein sauce, 1 Tbl seasoned rice wine vinegar, and 1 Tbl sherry.
Noodles
Step 3
Rinse and drain your healthy yam noodles.
Stir Fry
Step 4
Drain the chicken, discard the juices. In a large pan or wok, heat 1 Tbl vegetable oil with 1 Tbl sesame oil. Cook on high, stirring constantly, until chicken is fully cooked. Remove from pan and set aside.
Step 5
Add the remaining 1 Tbl sesame oil to the hot pan with the chopped vegetables. Cook on high, stirring constantly, for about 2-3 minutes, or until vegetables are wilted and carrots start to soften. Add back the chicken and cook, stirring to combine for about one minute. Add the sauce and the noodles. Cook on high, stirring constantly, for about 2 minutes. Serve hot.
---
I was a little skeptical at first when I saw these 'Healthy Noodles' at Costco. They came in a pack of 6 packets of 8 ounces each. Each package contains 2 servings of 25 calories each and zero carbs. So, the 4 packages used in this recipe is 200 calories with zero carbs! I know, crazy, right?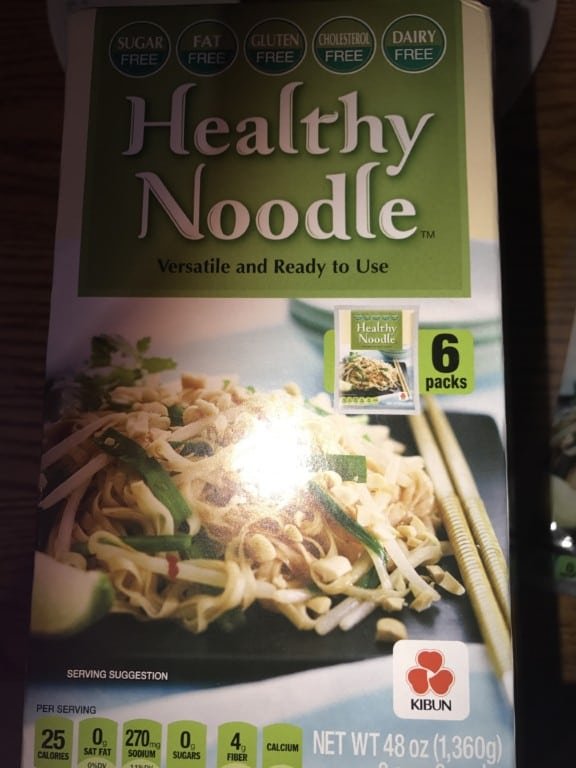 I was super skeptical, but I figured I'd try to make them as much as I could, like a chow mein (since I was making other Chinese dishes for dinner). I was pleasantly surprised. Not only did I like it, by my husband liked it, my 14 year old son liked it and my friend liked it. That's a pretty wide range of tastes there, and that says something. I didn't even tell my husband what they were until he had eaten half his plate.
The main difference I find is that these yam based noodles don't soak up as much of the liquid as others. So, go light on the liquids at first and add more if needed, otherwise you might need to drain your dish before serving.
So, now I'm hooked. Yam noodles are my thing! Go get your Healthy Noodles from Costco…
Enjoy!!