This is not a secret, but I like posting things that actually work. One can of Sweetened Condensed Milk can be turned into a creamy caramel sauce. Yep, one ingredient = caramel sauce.


Easy One Ingredient Caramel Sauce
Print recipe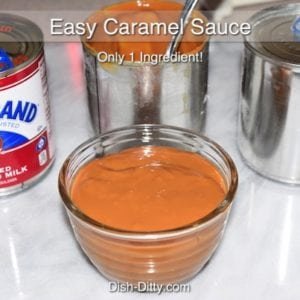 Ingredients
1 can Sweetened Condensed Milk (without pull tab can)
Directions
Step 1
Remove the label from the can and make sure the can is fully sealed. Do not open the can. Place the can in a pot and fill pot with water, covering the can by about 2 inches. Bring water to a boil. Reduce heat, cover and simmer on the lowest setting for 2 1/2 hours. Remove from heat and let cool before opening. Stir and serve.
---
There are a couple of different methods that I've read or heard about:
Make a couple holes in the top of the can and bake on a low temperature for 2-3 hours (this one came from my Dad)
Open the can and pour onto a pie plate, cover with tinfoil and bake for 2-3 hours (seems a little messy
Put in a crockpot and set on low for 6-8 hours (a lot longer of a time to make, but is hands off)
Use a pressure cooker (seems like not the best idea if you ask me to use a sealed can and put it in the pressure cooker)
Use a double boiler (very time consuming)
Old fashioned boiling (the method I used)
The flavor is not exactly the same flavor you would get from a commercial caramel sauce or one you would make from all fresh ingredients. But it is a delicious and creamy sauce none the less. I think, if anything, it is a little creamier. For those who have discerning tastes, you may be able to taste the sweetened condensed milk.
So, without further ado, here's the recipe… Enjoy!
---