I don't get to make mushrooms often (as my husband isn't a fan), but when I do, I make them every which way I can. This recipe is super simple to make and works great with chicken, beef, pork or fish.
Enjoy!
Chinese Stewed Mushrooms
Print recipe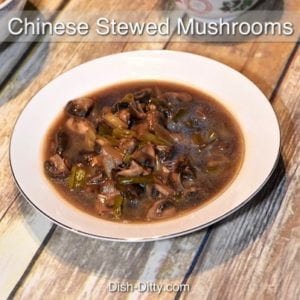 Ingredients
2 tablespoons garlic olive oil
8oz mushrooms (washed & quartered)
3 green onions (sliced)
2 tablespoons sherry
1 tablespoon seasoned rice wine vinegar
2 tablespoons Lo Mein Sauce (Panda brand)
Directions
Step 1
In a small pot, heat garlic olive on medium-high heat. Add mushrooms to the pot and cook, stirring frequently, for 2 minutes. Add remaining ingredients and cook on medium-high until bubbly. Reduce heat to a simmer, cover and simmer for 5 minutes.
---