I've been having fun with my Instant Pot and making up some great recipes for it. This one is a dish that would generally take hours on the stove, but with the help of a little pressure, these Chinese Stewed Pork Ribs are tender and flavorful in a fraction of the time.
If you do not have an instant pot, you can do everything on the stove and then transfer to a ceramic covered pot and slow bake at 225 for 3-4 hours.
Enjoy!
Chinese Stewed Pork Ribs Instant Pot
Print recipe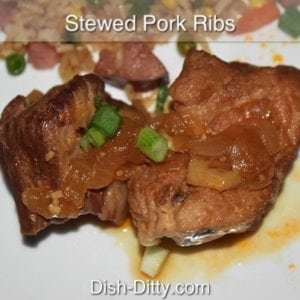 Ingredients
4-5lb boneless country style pork ribs
1 teaspoon garlic salt
2 tablespoons olive oil
2 tablespoons sesame oil
2 large sweet onion (diced)
1/4 cup garlic (minced)
2 tablespoons tomato paste
1/4 cup ketchup
1 tablespoon white sugar
1 1/2 cup water
1/4 cup light soy sauce
2 tablespoons tonkatsu sauce
1 tablespoon seasoned rice wine vinegar
1 tablespoon cornstarch
Directions
Step 1
In a bowl, combine: tomato paste, ketchup, sugar, water, soy sauce, tonkatsu, vinegar and whisk until smooth. Add the cornstarch and whisk again. Set aside.
Step 2
Turn the Instant Pot to sauté setting and add the olive and sesame oils. Season the ribs with garlic salt and brown in small batches, removing and setting aside the browned meat. When all meat is browned, add the diced onions and minced garlic. Cook, stirring constantly, on the sauté setting for about 3 minutes, or until the onions and garlic are soft and aromatic. Add the sauce from step 1 to the onions, stir to combine. Add back in the pork and toss to coat.
Step 3
Seal the lid and change the setting to 15 minutes of high pressure. Allow a natural release. If you want to do a quick release, increase the time from 15 minutes to 20 minutes.
---