Discover the richness of Chinese cuisine right in your own kitchen with this authentic Chinese Stewed Pork Ribs recipe. Made easily in an Instant Pot, this recipe will bring the tantalizing flavors of Asian cuisine to your dinner table in no time.
If you do not have an instant pot, you can do everything on the stove and then transfer to a ceramic covered pot and slow bake at 225 for 3-4 hours.
Chinese Stewed Pork Ribs Instant Pot
Print recipe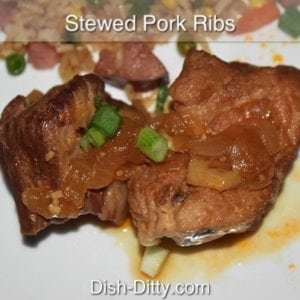 Ingredients
4-5lb boneless country style pork ribs
1 teaspoon garlic salt
2 tablespoons olive oil
2 tablespoons sesame oil
2 large sweet onion (diced)
1/4 cup garlic (minced)
2 tablespoons tomato paste
1/4 cup ketchup
1 tablespoon white sugar
1 1/2 cup water
1/4 cup light soy sauce
2 tablespoons tonkatsu sauce
1 tablespoon seasoned rice wine vinegar
1 tablespoon cornstarch
Directions
Step 1
In a bowl, combine: tomato paste, ketchup, sugar, water, soy sauce, tonkatsu, vinegar and whisk until smooth. Add the cornstarch and whisk again. Set aside.
Step 2
Turn the Instant Pot to sauté setting and add the olive and sesame oils. Season the ribs with garlic salt and brown in small batches, removing and setting aside the browned meat. When all meat is browned, add the diced onions and minced garlic. Cook, stirring constantly, on the sauté setting for about 3 minutes, or until the onions and garlic are soft and aromatic. Add the sauce from step 1 to the onions, stir to combine. Add back in the pork and toss to coat.
Step 3
Seal the lid and change the setting to 15 minutes of high pressure. Allow a natural release. If you want to do a quick release, increase the time from 15 minutes to 20 minutes.
Are you a fan of Instant Pot recipes? Here's a delightful twist that brings an authentic Chinese food experience to your home cooking repertoire. Chinese Stewed Pork Ribs, traditionally slow-cooked for hours to achieve that perfect blend of flavors, can now be prepared in a fraction of the time thanks to your pressure cooker.
This Instant Pot Pork Ribs recipe is a testament to the brilliance of Chinese cooking, highlighting the ribs' meaty flavor, complemented by an intoxicating blend of Asian spices. The secret to this dish lies in the stewing process, which infuses the pork ribs with deep, complex flavors. Each bite of these tender ribs transports you to the heart of Asian cuisine, making this dish a standout amongst many Instant Pot meals.
From selecting quality pork ribs to the intricate process of stewing in a mix of Chinese spices, this recipe provides a step-by-step guide to cooking this delectable dish. It's not just about learning a new recipe, it's about bringing the unique taste of homemade Chinese food to your dinner table. Whether you're a novice to pressure cooking or a seasoned expert, this recipe is an exciting addition to your collection of Instant Pot dinner recipes.
So, let's dive into the world of easy Instant Pot recipes with this Chinese Stewed Pork Ribs. Not only will you impress your family and guests with this exotic dish, but you'll also open up a new avenue of quick and flavorful dinner options. Happy cooking!
---