Using Chinese flavors and methods, this Chinese Style Beef Patties Recipe will be a favorite for your meat lovers. With little hamburger patties covered in a Chinese sauce with veggies, this dish just screams yumminess. Serve it over white rice or even rice noodles.
Chinese Style Beef Patties
Print recipe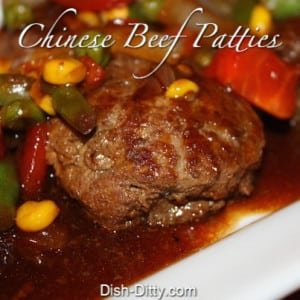 | | |
| --- | --- |
| Serves | 6-8 |
| Prep time | 15 minutes |
| Cook time | 25 minutes |
| Total time | 40 minutes |
| By author | Dish Ditty |
Ingredients
2 tablespoons Cornstartch (optional (omitted in picture))
Brown Sauce
1/4 teaspoon Brown Braising Sauce
1/4 cup Light Soy Sauce
1/4 cup Oyster Sauce
1/4 cup Beef Broth
2 tablespoons Sherry
1 1/2 tablespoon Cornstarch
Beef Patties
1 3/4lb 93% Lean Ground Beef
2 tablespoons Sherry
2 tablespoons Light Soy Sauce
2 dashes Pepper
1/2 tablespoon Sesame Oil
2 dashes Salt
2 Eggs
Saute Vegetables
2 tablespoons Vegetable Oil
1/2 Large Onion (sliced)
1 Large Tomato (diced)
1 1/2 cup Mixed Frozen Vegetables (or vegetable of your choice)
Cook Beef Patties
4 tablespoons Vegetable Oil
Directions
Brown Sauce
Step 1
In a medium bowl, mix together ingredients listed under 'Brown Sauce'. Set aside.
Beef Patties
Step 2
Combine ingredients together under 'Beef Patties' and mix well. Set aside.
Saute Vegetables
Step 3
In a large wok or fryer, heat on high 2 tablespoons of oil. Add onions and cook until fragrent.
Step 4
Add tomatoes and frozen vegetables with a dash of salt. Cook until tomatoes are soft and vegetables are hot. Remove from heat and set aside.
Cook Beef Patties
Step 5
In the same pan, heat 2 tablespoons of oil on medium high. Create small patties from the 'Beef Patties' mixture above and add to pan in a single layer (cooking in batches), leaving 1/2-1 inch between each patty. Cook until brown, then flip and continue to cook.
Step 6
Cook beef patties until they are fully cooked. Remove from pan and cook the remaining patties. I find that I can make them in two batches. When they are all cooked, place all the patties back into the pan in a single layer.
Step 7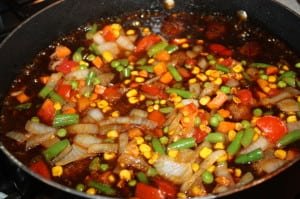 Add to the patties, the vegetable mixture and brown sauce. Cook on high for 2 minutes, allowing the vegetables and sauce to combine and become a bubbly thick sauce.
---
This can easily be adapted for an appetizer, either form smaller patties or balls and omit the vegetables. If serving as an appetizer, don't omit the cornstarch as that will keep the patties together a little better and will hold better in an appetizer form.