This is more of a Cream of Roasted Vegetable Soup than just Roasted Peppers. But, the roasted peppers are the shining star.

Cream of Roasted Pepper Soup
Print recipe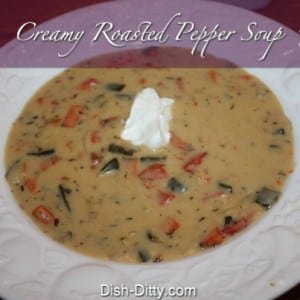 | | |
| --- | --- |
| Serves | 6 |
| Prep time | 20 minutes |
| Cook time | 20 minutes |
| Total time | 40 minutes |
| By author | Dish Ditty |
Ingredients
1/2 cup Butter
3/4 cups Shallots (finely chopped)
1/2 cup Roasted Red Pepper (diced)
1 1/2 cup Roasted Zucchini
2 cups Roasted Carrots
1 1/2 teaspoon Thyme
1/2 teaspoon Cumin
1/2 teaspoon Salt
1/2 cup Flour (optional -- if you want a thicker soup)
2 cups Chicken Broth
2 cups Low fat Milk (*See Note)
4 tablespoons Sour Cream (optional as topping to soup)
Note
You can choose to lighten this recipe by reducing the butter to 1 tablespoon and adding 1 tablespoon of olive oil. You can also choose to use non-fat milk.
Or, go the other way and use real cream instead of low fat milk. If you do this, reduce the flour in half.
Directions
Step 1
In large stockpot, melt butter. Add shallots and sauté for 2 minutes to soften.
Step 2
Add roasted red peppers, roasted zucchini, roasted carrots, thyme, cumin and salt. Sauté until vegetables for about 2-3 minutes.
Step 3
Add the flour and cook at least one minute to allow the flour to become a roux.
Step 4
Add the chicken broth and milk. Bring to a boil. Reduce heat to a simmer and simmer for 10 minutes.
Step 5
Serve adding a dollop of sour cream, if desired.