Experience the addictive crunch and savory flavors of our Crunchy Chickpea Snack recipe – a wholesome and delicious treat that transforms simple chickpeas into a satisfying and nutritious snack option.
Crunchy Chickpea Snack
Print recipe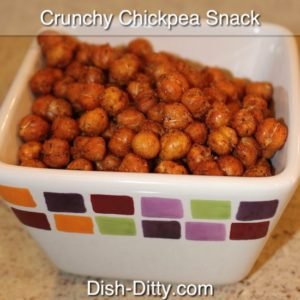 Ingredients
1 can chickpeas (large can, drained (reserve liquid for other recipes like meringues))
spray olive oil
1/4 teaspoon salt
1/4 teaspoon ground cumin
1/4 teaspoon garlic powder
1/4 teaspoon ground coriander
1/4 teaspoon chili con carne
1/4 teaspoon paprika
Directions
Step 1
Drain chickpea and lay out on paper towels to dry. This will take about an hour or so, pat dry as needed. Make spice mixture and set aside.
Step 2
Preheat oven to 375 degrees.
Step 3
Lay out chickpeas on a cookie sheet (lined with parchment or silicone baking mat). Place in oven and cook for 25 minutes. Shake pan to rotate. Return to the oven and cook for another 20-30 minutes or until chickpeas are no longer soft. Remove from oven.
Step 4
While still hot, spray with olive oil and toss in spice mixture. Let cool before serving.
Indulge in the addictive crunch of our Crunchy Chickpea Snack recipe. These roasted chickpeas offer a delightful combination of crispy texture and savory flavor, making them an irresistible and healthy snack option. With our easy-to-follow recipe, you can transform simple chickpeas into a flavorful treat that will have you reaching for more.
Our Crunchy Chickpea Snack recipe provides a fantastic way to enjoy the nutritional benefits of chickpeas in a fun and delicious form. Whether you're looking for a satisfying snack to curb cravings or an appetizer to impress guests, these spiced roasted chickpeas are a perfect choice. The combination of spices adds a delightful kick, while the roasting process transforms the chickpeas into a crunchy delight that will keep you coming back for more.
Elevate your snack game with our Vegan Chickpea Snack. These oven-baked treats are not only delicious but also packed with plant-based protein and fiber. They make an excellent alternative to traditional, less healthy snack options. With their versatility, you can customize the flavors to your liking, experimenting with different spices and seasonings to create a variety of savory chickpea snacks.
Satisfy your cravings with our homemade Crunchy Chickpea Snack. These gluten-free and nutrient-rich roasted chickpeas are a fantastic option for anyone seeking a healthier alternative to traditional snacks. Whether you're enjoying them on their own, sprinkling them over salads, or adding them to trail mixes, these flavorful garbanzo bean snacks are sure to become a favorite go-to option for snacking. Try our recipe today and experience the deliciousness of these easy and nutritious chickpea treats.