Looking for a healthy alternative to chips and process snacks? This is so easy to make and is ridiculously inexpensive. Better yet, it's vegan, gluten-free, sugar-free, and just plain delicious!
Crunchy Chickpea Snack
Print recipe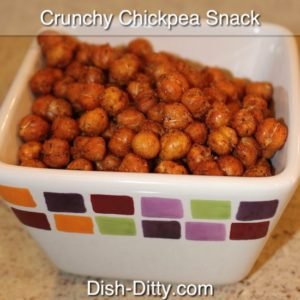 Ingredients
1 can chickpeas (large can, drained (reserve liquid for other recipes like meringues))
spray olive oil
1/4 teaspoon salt
1/4 teaspoon ground cumin
1/4 teaspoon garlic powder
1/4 teaspoon ground coriander
1/4 teaspoon chili con carne
1/4 teaspoon paprika
Directions
Step 1
Drain chickpea and lay out on paper towels to dry. This will take about an hour or so, pat dry as needed. Make spice mixture and set aside.
Step 2
Preheat oven to 375 degrees.
Step 3
Lay out chickpeas on a cookie sheet (lined with parchment or silicone baking mat). Place in oven and cook for 25 minutes. Shake pan to rotate. Return to the oven and cook for another 20-30 minutes or until chickpeas are no longer soft. Remove from oven.
Step 4
While still hot, spray with olive oil and toss in spice mixture. Let cool before serving.