Delight in the ethereal sweetness of our Vegan Meringue Cookies recipe – a light and airy treat that proves you don't need eggs or dairy for the magic of meringue. Made with aquafaba, these crispy delights are perfect for vegans and those with dietary restrictions, offering a guilt-free indulgence in every bite.

Vegan Meringue Cookies
Print recipe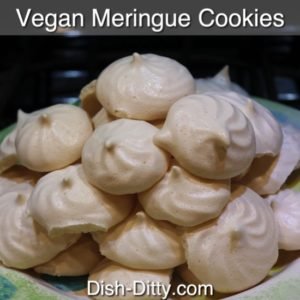 Ingredients
1 cup aquafaba (a.k.a. chickpea liquid)
3/4 cups granulated sugar
1/2 tablespoon vanilla extract
Directions
Step 1
In a mixer with whip attachment, add the aquafaba and vanilla. Start whipping the aquafaba mixture on high. As it starts to froth, slowly add the sugar, continuing to beat on high. Beat until stiff peaks form (should look just like egg white merinuge).
Step 2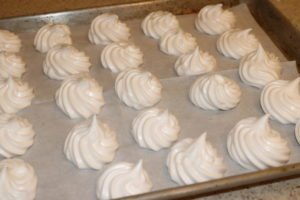 Drop onto a cookie sheet lined with parchment paper. I like to use a pastry bag/tip to make the cookies look prettier. But anyway will do. Give them a little space to spread.
Step 3
Bake at 225 for 45 minutes. Then rotate the pan and move pan to a different rack in the oven. Bake for another 45 minutes. Remove from the oven and let cool before serving.
---
Indulge in the airy delights of our Vegan Meringue Cookies recipe. These light and crispy treats prove that you don't need eggs or dairy to enjoy the magic of meringue. Our easy-to-follow recipe showcases the wonders of aquafaba, the liquid from canned chickpeas, which whips up into a perfect vegan meringue. These plant-based meringue cookies are a delightful option for vegans and those with dietary restrictions, offering a guilt-free indulgence.
With our Vegan Meringue Cookies, you can savor the delicate sweetness and melt-in-your-mouth texture that meringue is known for, all while adhering to a vegan lifestyle. The aquafaba serves as a fantastic egg replacement, creating the desired light and airy consistency that makes meringue so captivating. Each bite of these dairy-free meringue cookies is a heavenly experience, leaving you craving more.
Experience the wonders of vegan baking with our easy Vegan Meringue Cookies recipe. These crispy delights are made using simple, pantry-friendly ingredients, and the aquafaba is the secret ingredient that brings it all together. Whip up a batch of these vegan meringue kisses and impress your family and friends with a treat that's both stunning and compassionate.
Discover the magic of aquafaba and the joy of vegan baking with our Vegan Meringue Cookies. With their delicate sweetness and satisfying crunch, these plant-based meringue treats will delight your taste buds and surprise even the most skeptical of cookie enthusiasts. Whether you're following a vegan lifestyle or simply looking to explore new flavors, our recipe for vegan meringue cookies is sure to become a favorite in your repertoire of dairy-free desserts.
Yes, these really are vegan. No eggs were hurt in the making of these cookies. And yes, they do taste as good as they look!
I had to try it. I still cannot believe it worked. But, super simple, and so yummy, these Meringues were made from the liquid in a can of chickpeas! The liquid actually has a name and is called aquafaba. Yes, it's a thing. I had an extra large can of chickpeas that I used to make a simple chickpea snack, and thought I should try making the cookies.
The amount of liquid I had was almost double what I put in this recipe, mostly because it made way too much. I don't think most people would want 200 cookies. So I cut the recipe in half.
Anyways, the cookies turned out amazing. If you try it without knowing it is from chickpea liquid, you may think "hmm, they added something but not sure what, but still yum". Once you know it's chickpea liquid, you'll go back for 2nds and 3rds oh and probably 4ths as well. Just to compare.
But seriously, these are so good. And the best part? The uncooked whipped meringue is so so so so so yummy and without the worry of salmonella. I'm all about the cookie dough in any form, and this is by far my favorite.
So, next time you open a can of chickpeas, reserve that liquid and make these amazing Vegan Meringue Cookies!
Enjoy!
---