No need for syrup with the sinful Double Chocolate Chip Pancakes. Sinful, delicious, chocolate. Serve as is, or top with Whipped Cream.  A treat that can be made any day of the week as it is super easy and quick to make.
Double Chocolate Chip Pancakes
Print recipe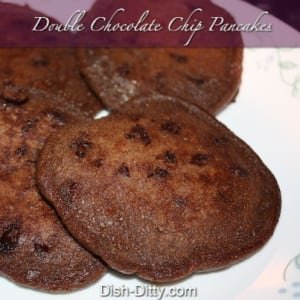 | | |
| --- | --- |
| Serves | 12 pancakes |
| Prep time | 5 minutes |
| Cook time | 10 minutes |
| Total time | 15 minutes |
| By author | Dish Ditty |
Ingredients
1/2 cup All Purpose Flour
3/4 teaspoons Salt
1 tablespoon Baking Powder
3 tablespoons Unsweetened Cocoa
1 tablespoon White Sugar
1/8 teaspoon Nutmeg
4 Slices White Bread (with or without crusts, doesn't matter)
1 cup Hot Milk
2 Eggs (beaten)
1/4 cup Milk
1 teaspoon Vanilla
1/2 cup Semi-Sweet Chocolate Chips
2 tablespoons Butter (for frying)
2 tablespoons Oil (for frying)
Note
Adapted from Grandma's Bread Pancakes.  Serve as is or top with Whipped Cream.
Directions
Step 1
In a small bowl, combine flour, salt, sugar, cocoa, baking powder and nutmeg. Set aside.
Step 2
In a mixing bowl, pour the hot milk over the bread slices and mush up the bread. I found it helpful to use a whisk to completely break up the bread and create a good base.
Step 3
Add cocoa flour mixture to the bread/milk mixture and combine well.
Step 4
In a separate bowl, beat the eggs. Add the beaten eggs to the bread milk mixture and mix well.
Step 5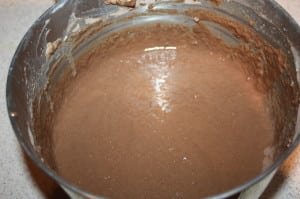 Add the additional 1/4 cup of milk if the mixture appears too thick. I found it was necessary.
Step 6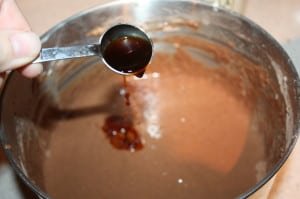 Stir in 1 teaspoon of vanilla and chocolate chips.
Step 7
Heat 1 tablespoon of butter and 1 tablespoon of oil in a medium sized frying pan. Heat on meadium heat until butter is melted and hot, but not burning.
Step 8
Drop spoonfuls of the batter into the hot butter/oil and let fry on one side until bubbles appear in the pancakes and the edges start to appear cooked. Double check to make sure the bottoms of the pancakes are golden and flip to cook the other side.
Step 9
Once the pancakes are cooked on both sides, remove from heat. Repeat step 8, adding additional oil and butter if needed to finish cooking all pancakes.