I am a sucker for easy recipes, and this Easy Caramel Chocolate Chip Ice Cream (No Churn) Recipe is one of them. This is the easiest homemade ice cream you can do. Feel free to change up the additions and add your own.
Easy Caramel Chocolate Chip Ice Cream (No Churn)
Print recipe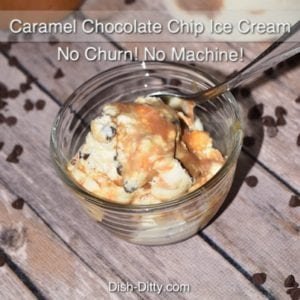 Ingredients
2 cups heavy whipping cream
1 can sweetened condensed milk (14oz)
1 1/2 tablespoon vanilla extract
1/2-1 cup mini chocolate chips
3/4-1 cups caramel sauce
Directions
Step 1
In mixer using whip attachment, whip on low the heavy cream, vanilla and sweetened condensed milk to combine. Slowly increase the speed, bringing the speed to the highest setting. Whip on high until stiff peaks form. Fold in the mini chocolate chips, adding more or less depending on your tastes. Layer in a freezer safe container with the caramel sauce. Freeze for at least 4 hours before serving.
---
Easy One Ingredient Caramel Sauce
Print recipe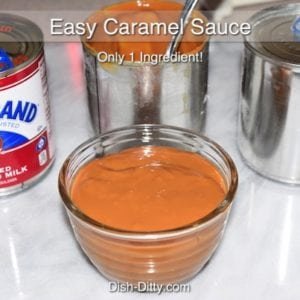 Ingredients
1 can Sweetened Condensed Milk (without pull tab can)
Directions
Step 1
Remove the label from the can and make sure the can is fully sealed. Do not open the can. Place the can in a pot and fill pot with water, covering the can by about 2 inches. Bring water to a boil. Reduce heat, cover and simmer on the lowest setting for 2 1/2 hours. Remove from heat and let cool before opening. Stir and serve.
---
Delight your senses with this Easy Caramel Chocolate Chip Ice Cream recipe, an indulgent homemade dessert that requires no churning.
Making ice cream at home can seem daunting, but this No-Churn Caramel Chocolate Chip Ice Cream recipe proves otherwise. This delicious no-churn recipe breaks down the process into easy, manageable steps, allowing you to create a delectable dessert without the need for an ice cream maker.
Combining the rich, sweet flavor of caramel with the classic addition of chocolate chips, this ice cream recipe offers a heavenly treat for all ages. Whether you're an experienced home cook or a beginner, our guide on how to make no-churn ice cream will equip you with all the information you need. So, if you've been on the hunt for easy dessert recipes that impress, your search ends here.
The great thing about this DIY ice cream recipe is its simplicity. With just a few common ingredients and a little time, you can create a dessert that's both satisfying and crowd-pleasing. Homemade caramel ice cream combined with the delightful crunch of chocolate chips is sure to make this recipe a favorite.
Unveil your culinary skills with this Easy Caramel Chocolate Chip Ice Cream recipe. It's a simple yet irresistible dessert that turns an ordinary day into a celebration.
I discovered this recipe when on Facebook. I've now seen at least 3 different videos for the same basic recipe. So, I am not sure who the originator of the recipe really is. If you know, please comment below so that we can give due credit.  I can't even find the original recipe that I used. Sorry! I'm sure it was on Facebook and likely from Tasty or Delish!
Anyways, here's my favorite combination for making this homemade delicious ice cream.
Enjoy!