Some desserts are so good they should be difficult to make so you don't eat them all the time. Unfortunately, these German Chocolate Macaroons are super quick and simple to make that you can have them any time you want.
I love German Chocolate Cake and I love Coconut Macaroons. This is a perfect blend of the two. Enjoy!
German Chocolate Macaroons
Print recipe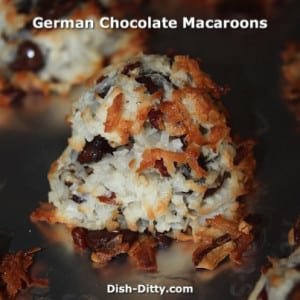 Ingredients
2.5 cups Sweetened Flaked Coconut
1/2 cup Pecan Chips
3 tablespoons Flour
1/3 cup Egg Whites
1 cup Chocolate Chips (milk or dark)
Directions
Step 1
Combine the coconut, pecan chips and flour. Mix well. Add the egg whites and mix well. Stir in the chocolate chips. Drop onto cookie sheet with non-stick aluminum foil and bake at 350 degrees for 18-20 minutes or until golden brown.

---