This is a fresh and healthy green bean dish that can be made quickly. It is flavorful and is hearty enough to use as a main course.

Green Beans & Tomatoes
Print recipe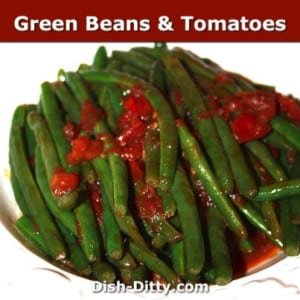 Ingredients
3 tablespoons Light Soy Sauce
1 teaspoon Seasoned Rice Wine Vinegar
2 tablespoons Panda Brand Lo Mein Sauce (or substitute with Oyster Sauce)
1lb Green Beans (trimmed and washed)
1 tablespoon Garlic Olive Oil
1 tablespoon Sesame Oil
1 1/2 cup Tomatoes (diced)
Directions
Step 1
In a small bowl, mix together the soy sauce, seasoned rice wine vinegar and Lo Mein Sauce. Set aside.
Step 2
In a medium sized wok or pan, heat oil on High until just before it starts to smoke. Add the green beans and cook for one minute, stirring constantly. Add the tomatoes and cook, stirring constantly for 4 more minutes. Add the sauce mixture and cook for 1 minute, stirring constantly.
Step 3
Reduce heat to a medium and cook, stirring occasionally, for 3-8 minutes, or until the green beans are done to your preference. I prefer my green beans crunchy, so I usually only cook them for 3 more minutes.
---