This was my attempt at getting my toddler to eat his vegetables. It is a hit with both kids and adults alike. The vegetables are well hidden, yet they add additional flavor to the mac & cheese. Can be served as a stovetop dish, or baked.
Hide the Veggies Mac & Cheese
Print recipe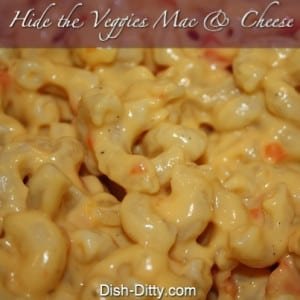 | | |
| --- | --- |
| Serves | 12 |
| Prep time | 20 minutes |
| By author | Dish Ditty |
Ingredients
2 tablespoons Flour
3 tablespoons Butter
1 cup Onions (diced small)
1/2 cup Orange Bell Pepper (diced small)
1/2 cup Carrots (shredded small/thin)
1/4 teaspoon Salt
1/4 teaspoon Pepper
1 1/2 cup Milk
1.5lb Mixed Cheeses (Velveeta, Sharp, Colby Jack, or Mozzarella: your choice)
1.5lb Macaroni (Cooked to package directions)
1/2 cup Breadcrumbs
Note
You can use any cheese, but I usually do a mix of Velveeta, Extra Sharp Cheddar, and Monterey Jack.
Directions
Step 1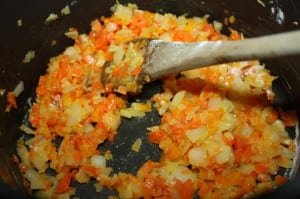 In large saucepan, cook the onions, orange peppers, and carrots in butter on medium heat until all the vegetables are soft and the onions are translucent.
Step 2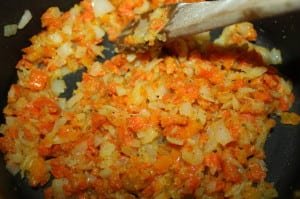 Add the flour and cook for about 2-3 minutes.
Step 3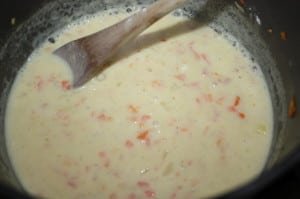 Slowly stir in the flour, mixing well, and cook until bubbly.
Step 4
Stir in the cheese and cook, stirring constantly, until melted.
Step 5
Pour the cheese sauce over the cooked macaroni noodles and stir well to combine.
Step 6
You can serve it as is. Or, put it in a casserole dish sprayed with pam, add some breadcrumbs. Bake at 350 degrees for about 45 minutes.