With this Homemade Easy Enchilada Sauce Recipe, you'll never need to buy a can of enchilada sauce ever again. Takes just a couple minutes to prepare, and is made with ingredients that is almost always in my kitchen.
Homemade Easy Enchilada Sauce
Print recipe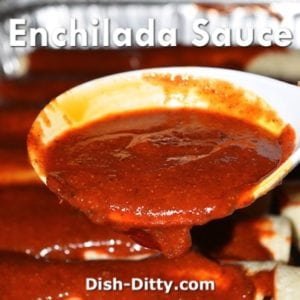 Ingredients
1/4 cup oil
2 tablespoons chili powder
2 tablespoons flour
1/4 teaspoon ground cumin
1 teaspoon dried oregano (ground or leaf)
1 teaspoon garlic powder
1/2 teaspoon onion powder (optional)
1 cup tomato sauce
1 1/2 cup water
1 teaspoon salt
1 tablespoon sugar
Directions
Step 1
Heat oil in a sauce pan with flour and chili powder. Cook for 2 minutes on medium-low. Add remaining ingredients and stir well. Cook for 5 minutes. Serve on enchiladas.
---
This recipe came about when I was making enchiladas and had 'oops!' forgotten to buy the enchilada sauce. I was too lazy to take the 30-40 minutes to go to the store and back, so I started scouring the internet for an easy recipe. Some of the recipes just didn't look good, others called for chicken broth, and there were a few that looked good, but I didn't have all the ingredients.
So, after a couple minutes going back and forth between many different recipes, I made up my own, with parts from several recipes. The results were fantastic. And, best yet? It's vegan! (that's for you Bobbie!)
So, the next time you want to make enchiladas, make your own sauce! You will be happy with the results. Enjoy!