Need a rich, silky, creamy, chocolatey, fudgey, yummy, oh my frosting recipe? You found it with this Hot Fudge Frosting Recipe.

Hot Fudge Frosting
Print recipe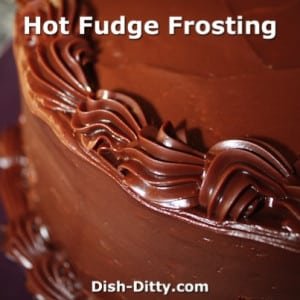 Ingredients
2 cups Heavy Whipping Cream
2 3/4 cups Sugar
6 teaspoons Vanilla
12oz Unsweetened Dark Chocolate (chopped coarsely to help melt faster)
8oz Butter
Note
Make this a day in advance as it takes a while for it to cool and set. Refrigerate cake after frosting and decorating.
Directions
Step 1
In saucepan, combine cream and sugar. Cook over medium heat until it just comes to a boil. Do not boil.
Step 2
Remove from heat. Whisk in chocolate until dissolved. Add vanilla and butter. Mix until butter is dissolved. Let cool before using as a frosting. Serve hot when using as hot fudge.
---
I picked up this recipe back in the early 90's when I worked at Draegers Supermarket in the bakery department. It is really simple to make and is amazingly rich and creamy. I had this as my once a month cheat yesterday paired with the dark chocolate cake and it was worth every ounce I gained.
I also used to like to make ice cream cakes and pies like I did when I worked at Baskin Robbins. This is a great copycat recipe for the fudge frosting used on the cakes and pies, like the border used on the Grasshopper Pie.
Did I say this was to die for yet? That I can't wait until next month where I might just make a grasshopper pie? oh my.
Enjoy!