Italian sausage makes these stuffed peppers out of this world good. A cross between a meatball, chicken parmesan and a classic stuffed pepper. YUMMY!


Italian Sausage Stuffed Peppers
Print recipe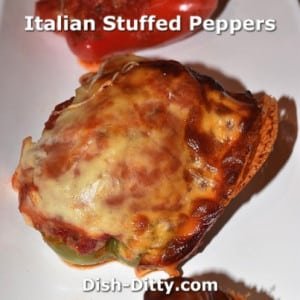 Ingredients
1lb Ground Turkey (or pork or beef)
1lb Ground Italian Sausage
1 cup Italian Style Breadcrumbs
2 Eggs
1/4 cup Milk
1 cup Parmesan Cheese (shredded)
1/4 teaspoon Black Pepper
1 teaspoon Garlic Salt
3-4 Peppers (mixed colors)
1 jar Marinara Sauce
6-8 Slices Provolone Cheese (or mozzarella cheese)
Directions
Step 1
Preheat oven to 350 degrees.
Step 2
Wash peppers, slice in half, and scrape out the seeds and white pith.
Step 3
In a large bowl, combine the ground turkey, ground italian sausage, italian style breadcrumbs, eggs, milk, parmesan cheese, black pepper and garlic salt. Mix it well until it is fully combined.
Step 4
Stuff the peppers with the meat mixture and bake at 350 degrees for about 40-50 minutes. The peppers should start to look softer and the meat should be almost cooked through.
Step 5
Pour the jar of sauce over the peppers and top with a slice of cheese. Bake at 350 degrees for 30-40 minutes, or until the cheese is browned and bubbly.
---
Sometimes I make something that is seemingly simple, but is unbelievably delicious. This is one of those recipes. I am working hard to stay away from beef and carbs and this recipe made it so one of these stuffed peppers was perfect for my lunch/dinner. No need for anything else.
Did I say YUMMY? It's worth saying again. I thoroughly enjoyed these stuffed pepper and I'm glad I wrote the recipe down so I can make them again anytime.
Enjoy!
Update: My husband was on a work trip and was tired of going out to eat, so he started cooking. This recipe was one of the ones he wound up making and he loved it. It was easy and he was able to make the peppers in advance and let them rest in the refrigerator until he was ready to cook.
---