My Dad was born and raised in Baltimore, and if there is one thing that makes you think of Baltimore is Maryland Style Steamed Blue Crabs. By far, the best way to cook and eat crabs.
We now live in California, not Baltimore. We still get wonderful live crabs, but they are Dungeness crabs, not Blue crabs. So, we've learned to adjust.
Here's a link to the Facebook Live video we did at our last family crab feast:
And then, my amazing niece and her husband has put together a fun video of their blue crab feast in New York…
And then the actual recipe… ENJOY!
Maryland Style Steamed Crab
Print recipe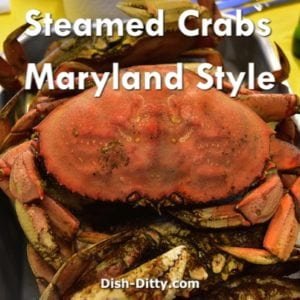 Ingredients
LARGE Steamer Pot
water
vinegar
live crabs
kosher salt
cayenne pepper
dry yellow mustard
black pepper
Old Bay Seasoning
Directions
Step 1
Place about 1/2-1 inch of water on the bottom of a extremely large steamer pot. Add about 1 cup of vinegar to the pot. Place the steamer bottom on top of the water. The water should not go over the steamer rack.
Step 2
Start layering the crabs with the seasonings. If you are cooking blue crabs, layer the crabs shell up. If you are cooking Dungeness crabs, layer the crabs shell down. Then add salt (liberally), cayenne pepper (to taste -- more will be spicier, but put at least a little even if you don't want spicy), black pepper (liberally), yellow dry mustard (moderately), and Old Bay Seasoning (liberally). Continue layering crabs and seasonings until you are done or fill the pot.
Step 3
Turn the heat on the pot, cover and cook for about 45 minutes. Let cool for about 10-20 minutes or just Serve!!!
---