These were my favorite Christmas cookie this year and I know I'll be making them every year from here on out. Super moist and soft, these peppermint mocha cookies taste like a Starbuck's Coffee in each bite.
Peppermint Mocha Cookies
Print recipe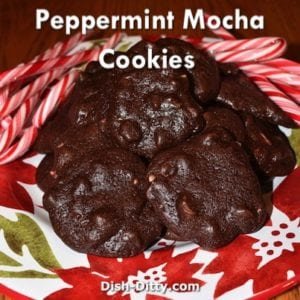 Ingredients
2 1/4 cups flour
1 teaspoon salt
2 teaspoons baking powder
1 cup cocoa powder
1 3/4 cup granulated sugar
1/2 cup cold strong expresso
1/2 cup vegetable oil
1 teaspoon vanilla
1 tablespoon peppermint extract
4 eggs
12oz semi-sweet chocolate chips
6 candy canes (crushed)
Directions
Step 1
Preheat oven to 350 degrees.
Step 2
In a small bowl, combine flour, salt and baking powder. Set aside.
Step 3
In a mixer, combine cocoa powder, sugar and expresso until cocoa is fully combined. Add the vegetable oil, vanilla and extract and beat for 1 minute on medium-high speed. Add the eggs, one at a time, until they are fully incorporated. Slowly add the flower and beat for 30 seconds after all the flour is added, being sure to scrape down the sides of the bowl. Stir in the chocolate chips and crushed candy canes.
Step 4
Drop onto a baking sheet lined with parchment and bake for 10-12 minutes. Let the cookies fully cool on the parchment before removing.
---
I saw a beautiful looking cookie on Facebook and it just sounded so good. It was from Cook's Illustrated Magazine, and it sounded delicious. Here's the post (be warned, it asks for your email/signup before letting you go forward) Cook's Illustrated Peppermint Mocha Cookies.
As usual, I tried the recipe as is. Well, I didn't make the frosting, I started with the cookie. And boy was it BLAND! Seriously bland and did not have much texture. I decided not to bother with the icing, since it looked like the recipe was relying on the icing to make the cookie taste good.
Well, I then decided to make my own. I started with a standard chocolate crinkle cookie recipe and went from there. The results were exactly what I was looking for. One batch was all it took and I had my Starbuck's Peppermint Mocha in cookie form.
Enjoy!
---