There are so many ways to make pork, but this is one of those great recipes that combines Chinese cooking with traditional American home cooking. Pork Stew Chinese Style is similar to many of the clay pot dishes you find in traditional Chinese restaurants.


Pork Stew Chinese Style
Print recipe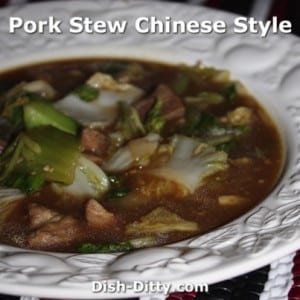 Ingredients
3.5lb Country Style Boneless Pork Ribs (cubed)
Garlic Salt
Olive Oil (enough to brown the pork, about 1/4 cup total)
1/2 Large Sweet Yellow Onion (diced)
2 tablespoons Minced Garlic
1 1/2 tablespoon Minced Ginger
3/4 cups White Wine
1/4 cup Light Soy Sauce
1/2 cup Hoisin Sauce
2 tablespoons Better than Bouillon Chicken
1/2 teaspoon Five Spice Seasoning
3 cups Water
6 Carrots (cut up)
2 Celery Stalks (cut up)
2lb Red Potatoes (cleaned and cut in half or quartered)
1/2 cup Water
2 tablespoons Cornstarch
6-8 Baby Bok Choy (cleaned and cut up)
1/2 head Napa Cabbage (cut up)
Directions
Step 1
Lightly sprinkle diced pork with garlic salt. In a large stew pot, heat a couple tablespoons of olive oil until hot. In batches, brown the pork, setting aside when brown. Add more olive oil between the batches, if needed.
Step 2
In the same pot (the pork is still set aside), add the yellow onion, minced garlic and minced ginger. Cook for a couple of minutes, or until the onions are soft. You do not want to brown the onions or garlic, just soften.
Step 3
Add the wine wine, bring to a boil and cook for 1 minute. Add the pork, soy sauce, hoisin sauce, better than bouillon chicken, five spice, 3 cups water, carrots, celery, and red potatoes. Bring to a boil, then reduce heat, cover, and simmer for 20 minutes.
Step 4
In a small bowl, combine the cornstarch with 1/2 cup of water. Increase the temperature of the stew to medium and add the cornstarch mixture, stirring to combine well. Add the baby bok choy andnapa cabbage. Bring to a boil, cover and reduce heat to a simmer. Simmer for 5-10 minutes, or until the vegetables are at the softness you prefer.
Step 5
Serve hot over white rice.
---
This recipe can be adjusted easily based on what you have available in your pantry. I wanted a stew that was hearty like an american stew but has the Chinese flavors and vegetables. This stew fit the bill.
Don't let the long laundry list of ingredients scare you off. This really is an easy recipe and has such great flavors and textures, it's worth a little bit of measuring… Enjoy!
---