Amazing use of Santa Maria spices, these Smoked Pork Chops are full of flavor and just a bit spicy. Santa Maria is no longer just a tri-tip spice.

Santa Maria Smoked Pork Chops
Print recipe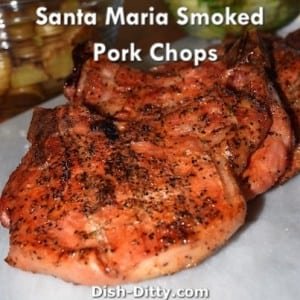 Ingredients
pork chops
olive oil
santa maria rub
Directions
Step 1
Liberally coat the pork chops with olive oil and add the santa maria spice rub moderately on the pork chops. I usually use about 1/2-1 tsp per pork chop.
Step 2
Place on a 225 degree smoker for 1.5 to 2 hours, or until the pork chops reach 140 degrees. Remove from heat and wrap with tin foil. Let rest for 20 minutes in the tin foil before serving.
---
Santa Maria Rub
Print recipe
Ingredients
2 tablespoons coarse salt
2 tablespoons coarse black pepper
3/4 teaspoons garlic powder
3/4 teaspoons dry mustard
3/4 teaspoons cayenne pepper
Directions
Step 1
Combine and use with your favorite bbq or smoked meat.
---
Santa Maria California is well known for their smoky and spicy tri-tip. They slow cook the tri-tip over california oak wood with this spicy mixture.
This spice mixture mixed with a smoker is a great way to honor the Santa Maria tradition.
Enjoy!