I've always thought I didn't like Kale. But, now I realized I had never really tried it.  One day, when I was trying out recipes to make Minestrone Soup, I wound up eating kale and loving it (albeit in soup).
But, that wasn't enough to convince me to add it to my family's regular dinner rotation. Then, last Thanksgiving, my sister-in-law made a Kale salad that was super yummy.  A month later, my sister made a yummy kale salad.  So hmmm, I guess I like Kale.
Next step was to learn what to make with kale other than soup and salad. So you may see a couple kale recipes coming up on this site.  Hopefully you'll take the plunge and try Kale, it really is tasty and healthy.
This recipe, Sautéed Kale, is just a simple side dish to serve as you would Sautéed Spinach.  My son liked it, although still not as much as he likes Sautéed Spinach. Still, it was a nice break to add a new vegetable to our dinner table.
Enjoy!
Sautéed Kale
Print recipe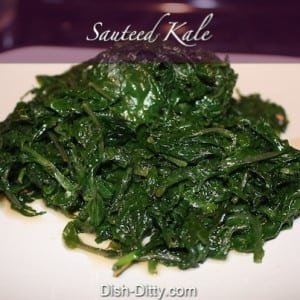 | | |
| --- | --- |
| Serves | 6 |
| Prep time | 2 minutes |
| Cook time | 10 minutes |
| Total time | 12 minutes |
| By author | Dish Ditty |
Ingredients
2 tablespoons Garlic Olive Oil
3/4lb Kale (washed and dried)
1/2 cup Broth (chicken or vegetable)
1 teaspoon Rice Wine Vinegar
1/2 teaspoon Garlic Salt
1 teaspoon Soy Sauce
Directions
Step 1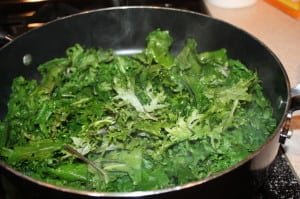 In large pot, heat garlic olive oil on high heat. Add kale and broth of your choice. Stir to coat kale with broth.
Step 2
Cover, reduce heat and simmer for 5 minutes.
Step 3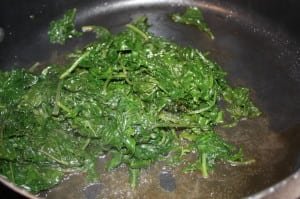 Add rice wine vinegar, garlic salt and soy sauce. Bring back up to high and cook for 30-60 seconds to coat all the kale in the seasonings.
Step 4
Serve Hot.