Now that summer is in full swing, we are going to picnics, BBQs and parties almost every weekend.  This is one of my favorite salads to bring since it can be a side dish or a full meal, just in case the hot dogs are a little slow coming off the grill.


Seafood Macaroni Salad
Print recipe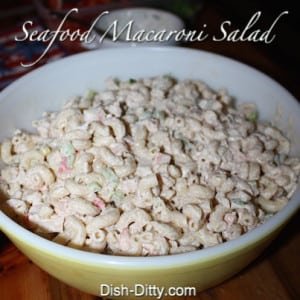 Ingredients
2 cups Mayonnaise
Juice of 1/2 Lemon
1/4 teaspoon Cayenne Pepper
1 teaspoon Old Bay Seasoning (add additional 1/2 tsp if needed)
1/2 teaspoon Dry Yellow Mustard
1/2 teaspoon Worcestershire Sauce
1/2lb Salad Shrimp (cooked and rinsed)
10oz Imitation Crab
2 stalks Celery (diced)
1/2 bunch Green Onion (diced)
1lb Macaroni (Cooked per package directions and rinsed in cold water)
Directions
Step 1
Combine mayonnaise, lemon, cayenne, old bay, mustard, and Worcestershire sauce until creamy. Add remaining ingredients and combine well. Refrigerate for at least 2 hours before serving. You can freshen with a little bit of mayonnaise mixed with old bay before serving.
---
My mom would make a salad like this occasionally during the summer, but my mom never measured and whatever she had was what went into it.  The constants were mayo, macaroni, crab or shrimp, celery, old bay and some kind of onion.  The rest of it was whatever she wanted to use at the time.  I cook in a similar way, but when I made this the last time, I measured everything so that there is a great recipe to start with.
Alter it? Definitely. You can choose to use other types of seafood like calamari, octopus, or even use fresh crab.  You can change the type of onion you use, or omit it.  I prefer celery, but some people don't like it.  As you can see, this is a great base recipe.
Enjoy!