There are so many ways to make soup, and this is just one more soup recipe you can add to your collection. Low in fat, high in flavor, vitamins, fiber, and antioxidants, this is a great one pot dinner. I created this recipe when I was on my Kale binge and it was so delicious. I have since become a fan of Kale and you're likely to see more Kale recipes on this site.
Vegetable & Chicken Soup
Print recipe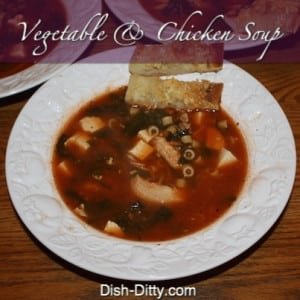 | | |
| --- | --- |
| Serves | 8 |
| Prep time | 10 minutes |
| Cook time | 1 hour, 10 minutes |
| Total time | 1 hour, 20 minutes |
| By author | Dish Ditty |
Ingredients
Simmer
7 cups Chicken Broth
2 cups Water
1 can Progresso Recipe Starters Fire Roasted Tomates (18 oz can)
1 1/2 cup Carrots (Shredded or diced)
1/2 bunch Cilantro (chopped)
6 cups Kale (cut up)
6 cups Spinach
2 tablespoons Light Soy Sauce
1 tablespoon Minced Garlic
1 tablespoon Rice Wine Vinegar
1 tablespoon Sesame Oil
3oz Tomato Paste
1/8 teaspoon White Pepper
2 teaspoons Sugar
Add Chicken & Pasta
1 cup Ditali Pasta (or other small pasta)
3 cups Cooked Chicken (**)
Add Tofu
12oz Firm Silken Tofu (optional)
Directions
Simmer
Step 1
Excluding the pasta, tomato paste, chicken and tofu, bring all the other ingredients to a boil in a stock pot. Reduce heat, cover and simmer for 45 minutes.
Add Pasta & Chicken
Step 2
Add the pasta and chicken, bring back to a boil, lower and simmer for 15 minutes.
Add Tofu
Step 3
Add the tofu and simmer for about 5-10 more minutes. Serve hot.