Snow White Chicken with Mixed Vegetables has the most tender chicken and fresh vegetables making it one of the best weeknight dinners you can make for your family.
Snow White Chicken with Mixed Vegetables
Print recipe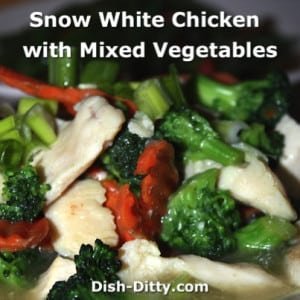 Ingredients
Blanch
4-5 cups Blanched Mixed Vegetables
Velvet
2lb Boneless Skinless Chicken Breasts (sliced thin)
1/4 cup Baking Soda
3/4 cups Water
Marinade
1/2 cup Chicken Broth
1/3 cup Shiao Xing Wine
1 teaspoon Sugar
1 teaspoon Seasoned Rice Wine Vinegar
1 teaspoon Sesame Oil
1/4 teaspoon White Pepper
2 teaspoons Garlic Powder
1/2 teaspoon Salt
Gravy
1 cup Chicken Broth
1/2 teaspoon Garlic Salt
3 tablespoons Cornstarch
Stir-Fry
3 tablespoons Vegetable Oil
1 Package Firm Tofu (diced)
Directions
Blanch Vegetables
Step 1
Start by blanching your mixed vegetables in hot water for 1 minute. You just need them to soften a little. Remove from the hot water and immediately immerse in ice water bath. Drain after 5 minutes in ice water bath.
Velvet Chicken
Step 2
Mix together the baking soda and water until the baking soda is dissolved. Stir in the chicken and let marinade for about 10 minutes. Rinse thoroughly and then soak in water for about 10 minutes to remove the baking soda. Be sure to drain the chicken using a strainer and then fully rinse the bowl to remove all the excess baking soda.
Marinade
Step 3
Mix together all ingredients above under 'Marinade'. Add the chicken (drained). Marinade for 5-10 minutes while you prepare the remaining ingredients. Strain the chicken to remove excess liquid before proceeding to the next step.
Stir-Fry
Step 4
In a large wok or pan, heat on high with vegetable oil. All of these next steps require you to stir constantly while cooking...

When the pan is hot, add the chicken and cook for about 2-5 minutes (depends on the size of your pan and how hot your stove can get), until the chicken is almost done. Add the cornstarch mixture and stir to combine. Add the vegetables and tofu and cook for about 3-5 or until the mixture has been hot and bubbly for at least 1 minute.

Remove from heat and serve with white rice or over chow fun noodles.
---
I'm amazed at how popular my How to Velvet Chicken Recipe and How to Velvet Beef or Chicken for Chinese Stir Fry post has become. This dish uses that technique creating the softest, most tender chicken you can imagine.
I've been on an 'eating healthy — try to loose weight kick'. And it's been working. This is one of the recipes that I use to help me stay off the carbs and still feel full (no rice for me! — the rest of the family gets brown jasmine rice). The variety of vegetables in this dish give the flavor and texture that is needed to feel satisfied mentally as well as provide enough food for your stomach to actually be full.
So far I'm down 35 pounds with at least that much more to go. I'm hoping that sticking with this healthy eating lifestyle will pay off and that I can stick with it. With recipes like this, I'm sure I will succeed!
This is also known as snow chicken, snow white Chinese chicken, snow white chicken, and snow white chicken Chinese.
So here's to a healthier me and you! Enjoy!
---