This is a family style Chinese dish that is rarely seen in Chinese Restaurants. It's a combination of tofu, pork, green onions, peppers and five spice seasoning. High in protein and anti-oxidants, this dish is a healthy dinner choice.


Five Spice Pork with Tofu
Print recipe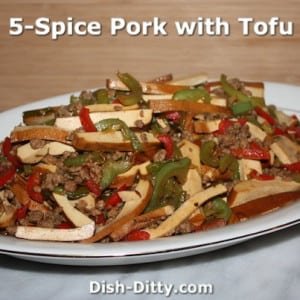 | | |
| --- | --- |
| Serves | 8 |
| Prep time | 15 minutes |
| Cook time | 15 minutes |
| Total time | 30 minutes |
| By author | Dish Ditty |
Ingredients
4-6 Green Onions (thinly sliced)
1 Red Pepper (thinly sliced)
1 Green Bell Pepper (thinly sliced)
20oz Tofu (Dry pressed or baked)
1.5 cups Marinated Pork (See notes for recipe)
1/2 tablespoon Five Spice Powder
1/4 cup Soy Sauce (light)
1/4 cup Tonkatsu Sauce
1 tablespoon Sesame Oil
1 tablespoon Vegetable Oil
Note
Recipe for Marinated Pork for Stir fry
Directions
Step 1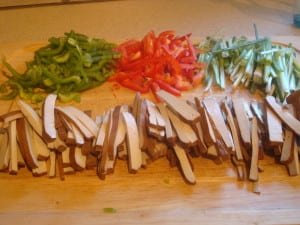 Julienne green onions, red pepper, green pepper and tofu. Set aside.
Step 2
In separate bowl mix together the five spice and marinated pork. Set aside.
Step 3
In large sauté pan or wok, heat pan and add vegetable oil. When hot, add the pork and cook on high until pork is fully cooked. Remove Pork from pan and set aside.
Step 4
Add 1 tablespoon of sesame oil and the vegetables to pan. Cook for about 3-4 minutes until peppers are done to your liking.
Step 5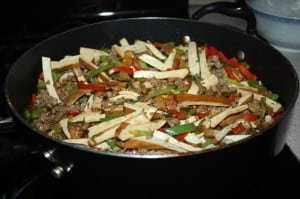 Add the cooked pork, tofu, soy sauce, and tonkatsu sauce. Continue cooking for about 3-4 minutes for all the flavors to combine. Remove and serve with rice or Chinese noodles.
Step 6
Picture of Bull-Dog Tonkatsu Sauce I use. You can also use Kikkoman Tonkatsu Sauce, but this is my preferred brand.
Step 7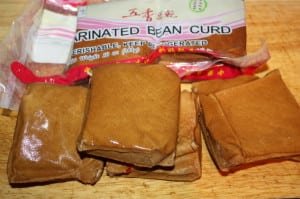 Picture of the tofu packaging and the tofu. You can use marinated pressed pork that can sometimes be found in American supermarkets. Be sure to stick to savory flavors and not sweet. For example, five spice marinated tofu and savory tofu work well. However the sesame and teriyaki marinated tofu styles do not work as well.
Step 8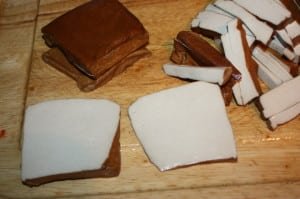 Another look at the tofu being cut up.
---
If found in a restaurant, it maybe named Shredded Pork with Dry Bean Curd or Pressed Pork with Tofu. You can find the tofu at some supermarkets and it will be labeled "Baked Tofu". Sometimes it will be seasoned with Five Spice or other flavors. Do not use Teriyaki flavored tofu.
Enjoy!
---