Sangria is a great party drink. Make it in advance and there's no need for a bartender. This Sunny Sangria recipe is a white wine sangria made with peaches, oranges and mangoes. It is light and refreshing… but be careful, this Sunny Sangria Recipe can provide quite a punch.
Sunny Sangria
Print recipe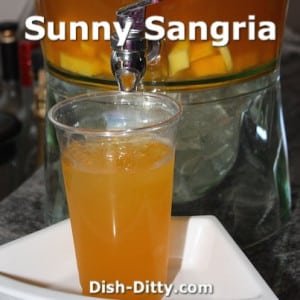 Ingredients
3 bottles Sauvignon blanc
2 bottles Chardonnay
5 cups Citrus Juice (I prefer Dole Orange Peach Mango Juice)
1 1/2 cup Brandy
3/4 cups Grand Marnier
1lb Fresh Mango Slices (diced)
3 Peaches (diced)
2 Oranges (Washed, thinly sliced with skin on)
Directions
Step 1
Combine all ingredients in a large beverage container and refrigerate at least 8 hours. Serve over ice.
---