Spice up your dinner routine with our Sriracha Chicken Sweet Potatoes recipe, a mouthwatering combination of tender chicken and roasted sweet potatoes infused with the bold flavors of Sriracha sauce. This easy and flavorful dish is sure to satisfy your cravings for a delicious and satisfying meal.
Sriracha Chicken & Sweet Potatoes
Print recipe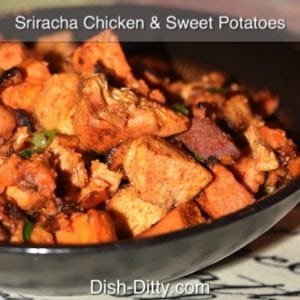 Ingredients
3 tablespoons coconut oil (divided)
2-3 Slices thick center cut bacon
2lb chicken breast (boneless, skinless, cubed)
3 large sweet potatoes (peeled, cubed)
1-2 tablespoon paprika
1-2 tablespoon garlic powder
3-6 tablespoons Sriracha sauce
1/2 bunch green onions (chopped)
Directions
Step 1
Preheat oven to 400 degrees F on roast setting.
Step 2
In a bowl, combine the potatoes, chicken, paprika and garlic powder. I didn't actually measure, but just sprinkled and tossed until it looked like most of the potatoes and chicken had a light coat. Then add the Sriracha sauce. Again, i didn't measure, just squeezed it on and tossed it to get an even coat. Set aside.
Step 3
Heat a dutch oven on medium high heat. Add 1 Tbl. of coconut oil and the bacon slices. Cook the bacon on each side until almost crispy. Remove from heat. Chop up and set aside.
Step 4
In the same pan, add the chicken/potato mixture in small batches, lightly browning the chicken. Add more coconut oil if needed (the bacon I had wasn't very fatty so it didn't provide much oil). Keep adding to the pan the chicken and vegetables, and moving around the pan to try to brown as much as you can. You don't need it to be perfectly browned, just so that you get some of the chicken and potatoes a little brown.
Step 5
Place in the oven, UNCOVERED, for 30-40 minutes or until chicken and potatoes are done. The time depends on how much you browned the chicken and your oven.
Step 6
Remove from heat and toss in the bacon and green onions before serving.
---
I have been receiving Imperfect Produce for a while now and I love it! It really has been great for me to go outside of my comfort zone and force me to get something other than Zucchini and Red Bell Peppers. Even though I can customize the box, I'm trying to get as many of the ingredients as they give me. And let's be honest, sometimes I forget to customize it in time.
One of the things I don't do a lot of is potatoes, of any kind. They are a pain to store, a pain to clean and peel, just a pain. So, I'm usually lazy and look at them and say, uh not this time. But, with the Imperfect Produce boxes, I've been getting them a bit more.
Add to that, I went to the store and they didn't have many options for meats (Sunday evening and it had been picked clean). So, I picked up some bone-in chicken breasts since that was almost all that was there.
So, I Googled: chicken and sweet potato paleo recipe, and a delicious sounding recipe popped up from Primal Palate called Sweet Potato Spicy Chicken. It looked really good. And I had almost all the ingredients. I think I found dinner!
Now, why did I Google for a Paleo recipe? Am I going Paleo? Not quite, but I find myself leaning more towards Paleo than anything else. HOWEVER, I did not have a Paleo friendly hot sauce, Srirarcha is not, so this is NOT a Paleo recipe. For a Paleo recipe, visit Primal Palate.
Anyways, I made it and it was YUMMY! Ok, it was better than that. I loved it. Very filling and flavorful. Now note that I did not add any salt or pepper. I felt like it really didn't need it. I'm guessing it depends on your bacon and how much salt comes from that. So, use this recipe as a kick start to create your own version of a Chicken and Sweet Potato dinner.
(Oh and I used the bones and skin from the chicken and more of my impossible produce to make chicken soup for tomorrow)
Enjoy!