Looking for something new to do with your leftover mashed potatoes? Try these wontons. So easy to make and a great use of two leftovers: mashed potatoes and leftover peas.
Leftover Mashed Potato Wontons
Print recipe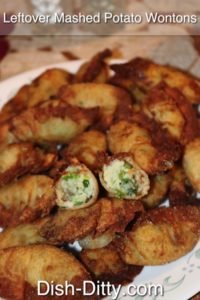 Ingredients
1 cup mashed potatoes (leftovers)
1/4 teaspoon salt
1/8 teaspoon pepper
1/4 cup milk
1 large egg
1/4 cup green onions (chopped)
1/4 cup fresh cilantro (chopped)
1/2 cup green peas (leftovers)
wonton wrappers
vegetable oil (for frying)
Note
There are lots of videos and instructions online for wrapping wontons. They can be in any shape, I just prefer this one since it is the easiest for me to make.
Directions
Step 1
Mix together potatoes, salt, pepper, milk and eggs until well combined. Then add the green onions, cilantro and peas.

Step 2
Using a wonton wrapper, place a small amount in the center, dip your finger in water and run along the edge of the wonton, Fold the wonton in half and pinch the edges, removing as much air as you can without letting the filling seep through. Set on a plate lined with parchemnt or wax paper. Continue making wontons, using parchment or wax paper to separate the layers of wontons. When done, cover with plastic wrap and refrigerate for 1 hour.
Step 3
Prepare your frying area by setting aside a plate lined with paper towels, a frying pan with 2-3" vegetable oil (or your favorite frying oil of choice), and a metal (NOT PLASTIC) slotted spoon. Heat 2 to 3 inches of vegetable oil in a large saucepan or medium skillet until a deep-fry thermometer inserted in the oil registers just under 350 degrees F.
Step 4
Gently place about 6-8 wontons in the oil, flipping when light golden in color. Remove when desired color. I prefer a light golden color, not too dark. Place on paper towels to remove excess oil.
Step 5
Serve hot, warm or room temperature.
---
I don't always have a ton of leftovers. One of my favorite leftovers is stuffing, and my favorite way to use them is to make "Eggs over Stuffing". But mashed potato leftovers? Those are harder to use creatively. Sure, I can make potato pancakes (but I prefer making from fresh potatoes), potato rolls, and? well, that's all that comes to mind. But now? These will be on our Thanksgiving Dinner Leftovers list.
So, grab those wonton wrappers and get wrapping! Enjoy!