This is the chicken I made for the Silicon Valley BBQ Championship's Backyard competition. It was delicious. Super delicious. I used Teriyaki Chicken but you can use any sauce that you like.
Best BBQ Chicken
Print recipe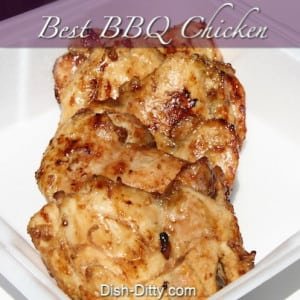 | | |
| --- | --- |
| Prep time | 10 minutes |
| Cook time | 20 minutes |
| Total time | 30 minutes |
| By author | Dish Ditty |
Ingredients
2 bottles Stella Artois Beer (Or your favorite beer)
1/8 cup Kosher Salt
10 Garlic Cloves
2lb Boneless Skinless Chicken Thighs
Your favorite sauce (teriyaki, bbq, etc.)
Directions
Step 1
Combine beer, salt, garlic and chicken in a sealed container or ziplock bag. Mix well. Marinade at least overnight and up to 2 days.
Step 2
Grill chicken and when the chicken is about 3/4 cooked, dip into the sauce. Then return to the grill to fully cookl. At this time you should change your tongs or wash them so you do not contaminate raw chicken with your cooked chicken. BBQ your chicken, turning occasionally, until it reaches 165 degrees.
Step 3
You can serve with your sauce on the side, or if you like it really coated, add another coat of sauce and grill for 1-2 minutes to set. Do NOT use the same brush/bowl/etc as before, use a new set of sauce and bowl/brush since the other was contaminated with raw chicken. Safety first! 🙂
---
The beer marinade not only gives a tenderness and garlic flavor to the chicken, but it also helps keep the flare down on the grill.  Use a spray bottle of beer to reduce flare-ups if needed.
These are the scores that the judges gave me. Note that there were 3 competition judges and 3 guest VIP judges. I think the competition judges did not like teriyaki (which is what I was told the morning of the competition, oops!):
Judge 1: 7-6-7: 25.7028
Judge 2: 7-6-7: 25.7028
Judge 3: 8-9-8: 34.2972
Judge 4: 8-9-9: 35.4400
Judge 5: 6-6-7: 25.1428
Judge 6: 8-7-8: 29.7028
It was well liked by 3 judges, not so much by the other 3 🙂  So, try this out and enjoy!