Meatloaf is an American standard, and I think everyone has their own version. In my family alone, we probably have 5 different ways that we make meatloaf. I think my recipe is the best.


---
I can't take 100% credit for this meatloaf. I just followed what I think my mom used to do. I adjusted it a little by adding the beef base to the sauce (really kicks it up). But again we had a complete mix of what each of us kids thought the recipe was. I had three different recipes that my siblings had 'written down' from mom, none of which is the recipe I use regularly. Here's a quick glimpse at one of my mom's written recipes for meatloaf: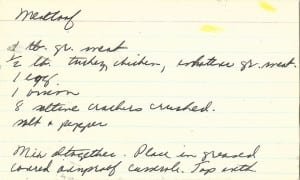 So, again I give you multiple versions in one post. The first recipe is my version which is tested and pictured. The others are different versions coming from my dad and siblings.
So, take your pick of recipes. I don't think you can go wrong with any of these recipes. Enjoy!