Sweet and smokey, this bacon wrapped smoked chicken recipe is perfect for a bbq competition. As you can see, I'm working towards next years Silicon Valley BBQ Competition since my chicken needed a bit of work. 


Bacon Wrapped Competition Chicken
Print recipe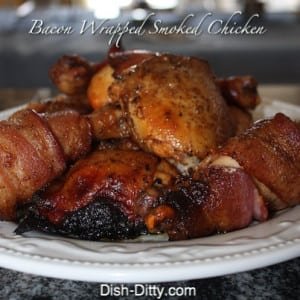 Ingredients
1/4 cup Dry Rub for Chicken (See notes for recipe)
1/2 cup Garlic Olive Oil
1/2 cup Aged Red Wine Vinegar
1/2 cup Honey
2lb Chicken Pieces (bone in with skin)
1/2-1lb bacon slices
Note
Directions
Step 1
Combine all ingredients (except bacon) together in a zip log bag and marinade overnight.
Step 2
Preheat the smoker to 325 degrees.
Step 3
While the smoker is preheating, remove chicken from marinade and let drip dry to remove excess liquid. Wrap each piece of chicken with 1/2 to 1 slice of bacon. Smoke wrapped chicken for 30 minutes to 1 hour or until chicken reaches 165 degrees. Time depends on size of chicken pieces.
---
Now that I know I can use my Traeger, I'm having fun creating new chicken recipes. This is by far my favorite. Will this be the one I use? You try it and let me know if I should.