Both my sister and I have created our own stovetop homemade macaroni & cheese.  But, honestly, the baked mac & cheese my mom made is the best. Designed for a large crowd, our just our family, this mac & cheese is sure to please. Great for a pot luck.  See the notes in the recipe for options while making it.
Baked Macaroni & Cheese
Print recipe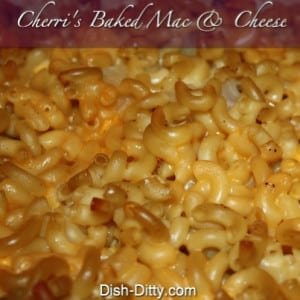 | | |
| --- | --- |
| Serves | 12 |
| Prep time | 30 minutes |
| Cook time | 2 hours |
| Total time | 2 hours, 30 minutes |
| By author | Dish Ditty via Cherri |
Ingredients
1 1/2lb Macaroni (Dry)
2 tablespoons Butter
8oz Mild Cheddar Cheese (shredded (or cubed if you prefer))
10oz Colby Cheese, Longhorn (shredded (or cubed if you prefer))
8oz Sharp Cheddar Cheese (shredded (or cubed if you prefer))
2 Medium Onions (or 1 large onion)
2 cups Milk ((can be skimmed))
Salt & Pepper (to taste)
Note
The cheeses mentioned here can be changed, all except for the sharp cheddar cheese -- that one is needed. Also, do not use fat-free cheeses as they will not melt.  Low-fat cheeses are fine.
For the recipe pictured, I used sharp cheddar, monterey jack, and Velveeta. The recipe called for Shredded Cheese, but I distinctly remember my mom just cutting it into cubes, which is also what I did in the picture above. I think it depended on how much time she had or what cheeses she had on hand. If they were pre-shredded, that's what she used.
It was generally considered an 'ice box mac & cheese' since you tended to just clean out your refrigerator and use all your old cheeses.
Directions
Step 1
Cook macaroni according to directions, drain, rinse with cold water, and set aside.
Step 2
Butter the inside of your baking pan or dish and put one layer of macaroni (about 1/3) on the bottom.
Step 3
Sprinkle the macaroni with 1/3 of the onions, dots of butter, 1/3 of shredded cheese and 1/3 each of the other cheese slices randomly distributed. Sprinkle with Salt & Pepper if desired.
Step 4
Add the next 2 layers in like manner, topping with the cheese layer.
Step 5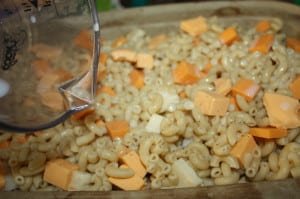 Pour the milk evenly on top of the cheese.
Step 6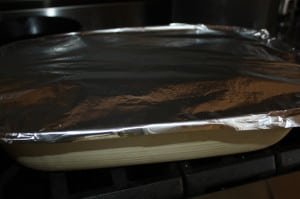 Cover and bake in a 350 degree oven for about 2 hours. To make the top browned (as pictured), remove the cover 15 minutes before it is done.
Step 7
Serve hot.