This Rice Cake Noodles with Chinese Greens & Pork Recipe is a traditional Chinese noodle dish that is usually served during the Chinese New Year.  The noodles are called "Rice Ovalettes" and are one of the most unique noodles I've seen.  Made of rice, they are hard when cold and soft and chewy when warm.  This is one of my favorite dishes and I hope you will try it and enjoy it too.
Chinese Rice Cake with Pork & Chinese Greens
Print recipe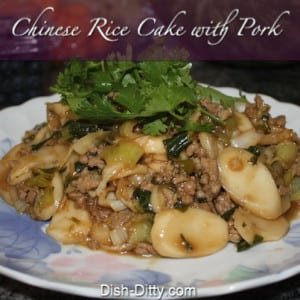 Ingredients
1 Package Rice Ovalettes
3/4 cups Marinated Ground Pork (see notes for recipe)
1 1/2 tablespoon Sesame Oil
5 cups Mixed Chinese Leafy Greens (like Napa Cabbage, Mustard Greens, Baby Bok Choy, etc.)
1/2 bunch Green Onions (sliced into thin strips)
1/2 bunch Fresh Cilantro
1/4 cup Light Soy Sauce
1/4 cup Panda Brand Lo Mein Sauce
1/2 cup Chicken Broth
Note
VEGAN OPTION: Omit the pork, skip the second step, substitute water for chicken broth and substitute vegetarian hoisin sauce for the lo mein sauce (Lo mein sauce has oysters and chicken base in it).
GLUTEN-FREE OPTION: You will need to purchase gluten-free soy sauce. The Lo Mein sauce listed is gluten-free and is a delicious sauce that is very versatile.
If you can't find the lo mein sauce? Just get a standard oyster sauce and add a 1/2 tsp of sugar.
Directions
Step 1
In large colander, rinse the rice ovalettes and separate them so they aren't sticking together. Chop vegetables and set aside
Step 2
In large sauté pan or wok, heat pan and add 1 Tbl Sesame Oil. Add meat and cook until pork is fully cooked. Remove from pan.
Step 3
Add 1/2 Tbl Sesame Oil and all the vegetables to pan and cook until about 1/2 in size.

Step 4
Add meat, rice ovalettes, soy sauce, lo mien sauce and chicken broth. Cook on high heat, stirring frequently, for about 10 minutes or until most of the liquid is absorbed. There will be a nice sauce remaining. Remove from heat and serve as a meal or as a side dish.
Pictures: