Is this even too easy to put up here? Maybe, but this chicken is so good everyone always asks for the recipe. So, here is my simple Grilled Garlic Chicken Teriyaki Recipe.
This 'process' for cooking chicken was perfected by the Saint Lawrence Swim Team as their annual fundraiser.  Every year they host a booth at the Santa Clara Arts & Wine Festival selling Chicken Teriyaki. When my husband and I took over managing our booth for the festival, we made a couple tweaks to the process to make it even easier for us.  The last year we ran the booth, over 1100 pounds of chicken teriyaki was sold.
What's the key to success for this recipe? The sauce.  Pick a good sauce.  You can make your own (although I don't), but if you do, pay attention to the salt in the sauce.  I find that some over the counter teriyaki sauces are too salty.  Eventually I will make my own sauce and add it here, but honestly the sauces available now are very good.
My recommendation is the Kona Coast Teriyaki Marinade and Glaze and add some minced garlic to it.  I have also had good success with Kikoman's Garlic Teriyaki Baste & Glaze.  When I was younger, way younger, I would take 1 package of Good Seasons Garlic & Herb salad dressing, mix it with a couple tablespoons of water and then add that to Kikoman's Baste & Glaze.
As you can see, this recipe really is perfect for large crowds. I have another Chicken Teriyaki recipe that is a marinated chicken teriyaki. This recipe is a glazed or basted teriyaki. Both are tasty, but this one looks prettier.

Grilled Garlic Chicken Teriyaki
Print recipe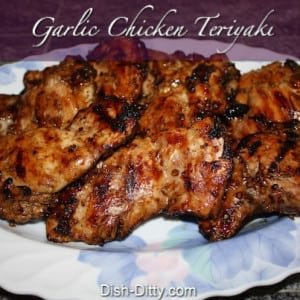 Ingredients
Garlic Chicken Teriyaki Sauce/Glaze (*See Note)
Boneless Skinless Thighs
Note
*I make my own garlic Teriyaki sauce by adding minced garlic to Kona Coasts standard Teriyaki Marinade and Glaze. But I've tried their Island Teriyaki and it's wonderful but a little salty for my taste. Looking on their website, they also now offer a Roasted Garlic Teriyaki Sauce which looks like it's worth trying. If you try it, let us know how you like it.
This recipe is designed to use with a Glaze. Like Kona Coast Teryaki Marinade and Glaze or Kikoman Garlic Teriyaki Baste & Glaze.
Directions
Step 1
Rinse and pat dry chicken. Pour sauce into two bowls. One will be your "first dip", the other will be your "second dip".
Step 2
Heat grill to a medium-high temperature. Place chicken (unseasoned) on the grill. YES, I understand, most people will think you need to season the chicken first. I don't. The sauces are generally so salty that seasoning it with salt before cooking is too much.
Step 3
Grill the chicken, rotating and flipping it every 2-3 minutes. When the chicken is about 1/2 cooked, dip the chicken in the first bowl and coat thoroughly with sauce.
Step 4
Place the chicken back on the grill and cook until chicken is almost done. Dip in the 2nd bowl coating fully and just finish the chicken while setting the glaze. Remove from grill and serve.
Step 5
I like to slice the chicken and serve it sliced over rice with steamed or stir fried vegetables.