Need a change from Onion Dip?  Try this Creamy Roasted Pepper Dip. It's a delicious dip to go with chips or vegetables and is quick to settle, you can make it even for those surprise guests.
Creamy Roasted Pepper Dip
Print recipe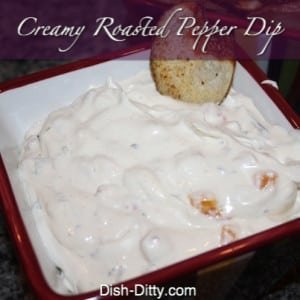 Roasted peppers make this creamy dip a great alternative for those who don't like or can't eat onions. Great with chips or vegetables, this dip is a party pleaser.
Ingredients
2 cups Sour Cream
1 cup Mayonnaise
3/4 cups Roasted Peppers (diced small)
1 teaspoon Garlic Salt
1 teaspoon Beau Monde Seasoning
Directions
Step 1
Mix all ingredients together. Chill for 30 minutes or more before serving.
Roasted Peppers
Print recipe
| | |
| --- | --- |
| Prep time | 5 minutes |
| Cook time | 15 minutes |
| Total time | 20 minutes |
| By author | Dish Ditty |
Roasting peppers is so easy that you really don't need to spend $4.00 for a small tiny jar of roasted peppers from the store. Use the roasted peppers on your sandwiches, in salads, in dips, or just as a side dish to your BBQ.
Ingredients
Peppers (Red, Yellow, or Orange)
Olive Oil
Salt
Directions
Step 1
Preheat oven to 475 degrees.
Step 2
Wash & dry the peppers. Cut peppers in half, removing the seeds and white veins.
Step 3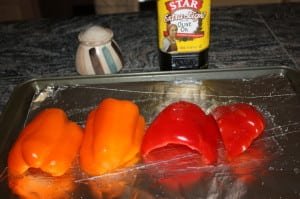 Line a baking pan with tin foil, then drizzle tin foil with olive oil, spreading it evenly. Lay peppers down shiny side up. Drizzle peppers evenly with olive oil. Sprinkle with salt, if desired.
Step 4
Place in oven and roast for about 15 minutes, or until peppers start to brown.