This is a delicious turkey recipe that can be done in the oven on roast or can be done on a smoker. Either way, you are left with delicious vegetables on the bottom and a crispy juicy turkey.

I apologize that I don't have pictures of the finished product. I'm not sure how that happened, but I'll take pictures the next time I make this.
Enjoy!
Herb Roasted Turkey
Print recipe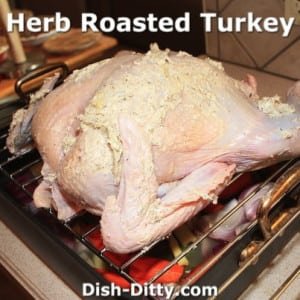 Ingredients
1 Turkey
Turkey Injector Marinade (optional)
3 Red Onions (peeled & quartered)
10 Carrots (peeled and halved)
Tops of One Celery Bunch
1 can Chicken Broth
1 bottle Dry Vermouth
2 sticks Butter (softened)
2 tablespoons Herbes De Provance
2 teaspoons Kosher Salt
1 teaspoon Black Pepper
Directions
Step 1
Wash & Dry turkey. Inject with turkey injector marinade (optional).
Step 2
In a separate bowl, combine butter, herbes de provance, salt & pepper together. Rub this under the skin of the breast and all over the turkey as shown in the picture.
Step 3
In a large roasting pan, place all the vegetables (onions, celery, carrots) onto the bottom and add the chicken broth and wine.
Step 4
Place the turkey on a rack over the vegetables, not allowing it to touch the vegetables. Roast at 350 degrees until turkey reaches 165 degrees in the breast and 180 degrees in the thigh. About 20 minutes per pound.
Step 5
Let the turkey rest for at least 20-30 minutes before slicing.