Simplicity at it's best. Just a few simple ingredients makes this amazing smoked ahi tuna.

Following with my theme of healthy cooking, this tuna recipe is amazing. One tuna steak will feed 2-3 people.

Smoked Ahi Tuna
Print recipe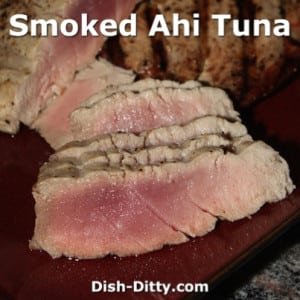 Ingredients
Ahi Tuna Steak
Olive Oil
Coarse Black Pepper
Sea Salt
Directions
Step 1
Lightly rub olive oil on Tuna. Season with Salt & Pepper. Place on hot smoker (about 350-400 degrees) and cook for 3-5 minutes. Flip and cook for 3-5 more minutes. The color shown here was about 350 degrees for 5 minutes on each side.
---