Jamaica Me Crazy? You bet! This smoked cod is tender and flavorful. Perfect for that summer evening when you want to keep it light.


Smoked Jamaica Me Crazy Cod
Print recipe
Ingredients
Cod Filets (skinned and deboned)
Olive Oil
Jamaica Me Crazy Seasoned Pepper
Jamaica Me Crazy Seasoned Salt
Directions
Step 1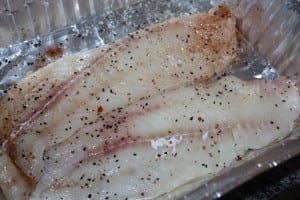 Lightly drizzle with olive oil. Sprinkle on Jamaica Me Crazy Seasoned Pepper and Jamaica Me Crazy Seasoned Salt. Spray a Grilling Platter with Pam and place on hot smoker. The smoker should be at around 325 -350 degrees. Let the grill pan get hot. Add the seasoned fish and smoke for 15 minutes. Remove and serve hot.
Step 2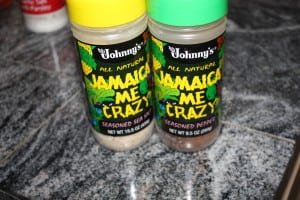 Picture of seasonings used.
---
I've been trying to lighten up our meals. And it's worked, both my husband and I have lost over 25 pounds. And all we are doing is lightening up our meals, reducing the carbs, increasing the veggies, and staying away from red meat as much as possible.
Dinners like this are perfect for us and I just love it. Cod is one of the most tender and versatile fish available. It's probably my favorite fish and now this is my favorite way to make it.
You can choose to add lemon to it, but if the fish is fresh, it doesn't need it. I hope you enjoy this recipe.