I have many friends who are either vegetarian or gluten-free. I'll be trying to mark on my recipes how to adjust them for different diets, but this Vegetarian Chinese Rice Cake Noodle Recipe is one I thought needed to have a separate post. It's such a rich and flavorful dish, you won't even miss the meat or wheat.


Vegetarian Chinese Rice Cake Noodle
Print recipe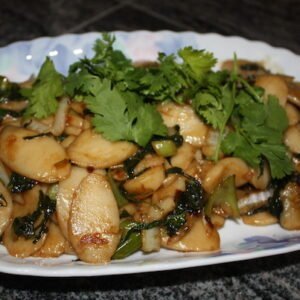 Ingredients
1 Package rice ovalettes
1 tablespoon sesame oil
4 cups mixed Chinese leafy greens (Any combination of Napa Cabbage, Bok Choy, Mustard Greens, etc.)
1/2 bunch green onions (chopped)
1/2 bunch fresh cilantro
1/4 cup light soy sauce
1/4 cup oyster flavored sauce (most contain oysters, but there are vegetarian oyster flavored sauces are available)
1 tablespoon sugar
1/2 cup vegetable broth
Directions
Step 1
In large colander, rinse the rice ovalettes and separate them so they aren't sticking together. Chop vegetables and set aside.
Step 2
In small bowl, mix soy sauce, oyster sauce, sugar and vegetable broth. Set aside.
Step 3
In large wok or pan, add Sesame Oil and all the vegetables to pan and cook until about 1/2 in size.
Step 4
Add rice ovalettes and sauce mixture to vegetables. Cook on high heat, stirring frequently, for about 10 minutes or until most of the liquid is absorbed. There will be a nice sauce remaining. Remove from heat and serve as a meal or as a side dish.
Step 5
Make it Vegan by changing the type of sauce. Maybe using a vegetarian hoisin sauce.
Make it Vegan by changing the type of sauce. You can use a vegetarian oyster sauce or even a  vegetarian hoisin sauce.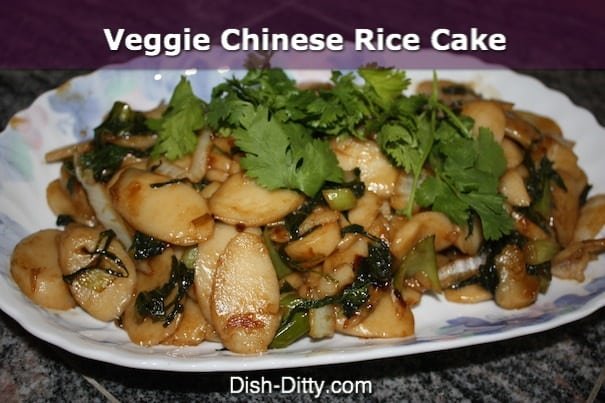 Pictures